Malfunction Junction
The Hazards of Conducting
From the time I attended my first concert, I became deeply interested in the role of the conductor. Being from a small town in rural Kentucky with no "Concert Series" events happening in my hometown, the only concerts I was able to attend were by the local high school ensembles and a rare visit from a university group or a touring pianist. I began taking piano lessons when I was three years of age, and clarinet lessons at the age of seven. Since there was no elementary band, I became a member of the high school band when I was in the third grade (to the chagrin of the high schoolers.)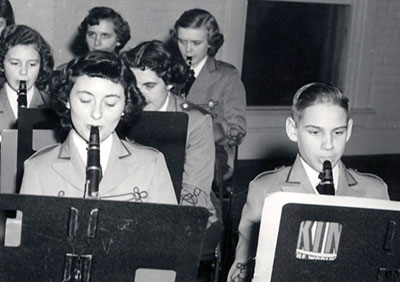 By the time I entered high school I was already involved in leading groups of both singing and playing musicians. My wonderful high school band director, Don Stone, gave me the opportunity to direct the band on many occasions. My church allowed me to direct the choirs on a regular basis. When I enrolled in the university, I already had a great deal of conducting experience and immediately was selected to conduct various choirs.
My parents were attending a Kiwanis convention and were dancing to the music of Sammy Kaye. When the music ended, they happened to be very near the conductor, whose group was known as "Swing and Sway with Sammy Kaye." My Dad (not a shy man) spoke to him and said, "My son wants to be a conductor, too." Mr. Kaye congratulated my Dad and took out a pen, signed the baton he was using and handed it to my Dad. I wonder where that baton is today? Surely it is somewhere here in our house. And don't call me Shirley!

Sammy Kaye
In those days most choral conductors rarely used a baton but instrumental conductors generally did. Why was this? Did it have something to do with the history of conducting or was it more related to the fact that singers contained their instrument within their own body, whereas instrumentalists were dealing with external and more mechanical instruments? In my earliest conducting I always used a baton with instrumentalists but never used a baton with singers. I felt that I could be much more expressive with my hands and not be fettered by any external object such as a baton. That changed completely after the first summer I spent studying with Robert Shaw - the greatest choral conductor who ever lived. He almost always used a baton. I soon discovered that the baton not only provided a single point for performers' focus but also provided me with a discipline I had never experienced but profoundly needed.

Robert Shaw conducting the San Diego Symphony with Isaac Stern, violin - 1957
I was so happy to have captured this photo when studying with Mr. Shaw
I had researched the history of conducting and learned about those who led groups in Gregorian chant - a single-handed horizontal sweeping motion known as chironomy which indicates the rise and fall of melodic lines. This was also based on the stressed syllables of the Latin text and was necessary for creating a unified ensemble singing because chant was melodically and textually based rather than rhythmically founded.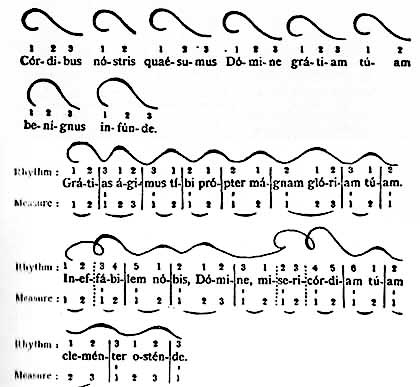 As ensembles became larger and compositions evolved in complexity, it became necessary for one or two people to take responsibility for keeping things together. Often this meant that the person who was playing the harpsichord would direct the singers using his hand or head, and the person who was playing the principal violin would direct the instrumentalists with his bow. One of my favorite stories of early conducting mishaps involves a highly respected composer/conductor, Jean-Baptiste Lully (1632-1687.) While conducting his Te Deum in honor of Louis IV's recovery from surgery, Lully used a large staff with which to pound on the floor. While the audible noise and the visual movement of the staff (baton) created a unifying factor for the performers, it must have produced a horrible distraction from the music itself. Couple this with the fact that while performing for royalty, the conductor was prohibited from turning his back to the King, thus Lully was facing the King with his back to the other performers. During one of his spirited poundings, the staff hit his toe which caused an abscess and eventually gangrene which ended his life. This is probably the only person I am aware of who died from a conducting baton malfunction!
Others have had unusual (and sometimes frightening) experiences. There was a conductor in Brazil who impaled his left hand while conducting and giving a cue. It is reported that he managed to place a handkerchief over the bleeding left hand and continue the performance while the baton remained speared through his hand.
Another conductor was about to appear on TV with his choir. He made a sweeping upward motion with his baton and the tip of the baton entered his nose and caused severe bleeding in addition to intense pain. The bleeding was stopped by the use of a tampon which was carefully inserted into the nasel cavity until the bleeding ceased.
I well remember a malfunction in a performance in which I was the bass soloist. The conductor, Dorothy Brown, having been presented with a lovely bracelet prior to the performance, got it entangled in her poofy dress and was forced to use tiny conducting motions until it could be removed at the conclusion of the piece.
My personal malfunction, fortunately, caused no physical pain. It happened when I was conducting a performance on tour. I vigorously made a giant sweeping upward motion which caught my baton in the music stand. The baton was torn from my hand, flew backward end-over-end past my head and landed somewhere in the audience. I continued to conduct and a few moments later, I felt a tug on my right leg. A young boy was looking up at me with my baton in his outstretched hand. I took the baton and smiled as I continued to conduct with my other hand. From that moment forward, I always kept a second baton on my music stand, just in case of another Malfunction Junction!

Bill - early conducting photo, 1963?