Who Moved Denali?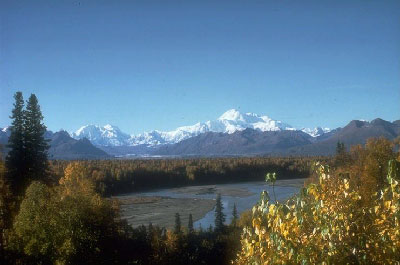 While I was still in high school in my tiny rural hometown in south-central Kentucky, I became acquainted with the choral work of Robert Shaw - IMHO the most outstanding choral musician the world has ever known. I had already collected many of his recordings ranging from The St. John Passion of Bach to the multiple recordings of Christmas carol arrangements by Mr. Shaw and Alice Parker as well as a recording of Toscanini's Beethoven's 9th Symphony with the Robert Shaw Chorale. Not only was I "hooked" by the choral sound, but also the nuance of Mr. Shaw's interpretation of the various styles of music.
During my 2nd year in college, I learned of the Robert Shaw workshop which took place at San Diego State College and I made application. I was thrilled when I was accepted into this prestigious program and made preparations to travel to California for study and inspiration. My family had taken a vacation "out west" when I was 8 years old, so I had a faint memory of that trip when my dad made certain that my car would make the trip and handed a set of maps to guide me on Route #66.
I arrived in San Diego without a place to live for the summer but was guided to a frat house which just happened to be directly across the street from the house where Mr. Shaw and his family would live during the workshop. The experience for the summer was life-changing for me and I became acquainted with many musicians who remained long-time friends. Because I was directly across the street from the Shaw house, I was asked on several occasions if I would mind watching the Shaw's youngest child when they were away.
During one social encounter with Mr. Shaw, he asked me if I had ever journeyed to Alaska and told me about the Anchorage Festival of Music which he had founded in 1956. He also suggested that I might some day attend the festival and perhaps sing in the chorus. This was a dream for me which I frequently thought about.
In 1994, I received a call from the manager of the Anchorage Festival of Music who offered me the position of Musical Director of the Anchorage Festival for the summer of 1994. I never hoped to be the Musical Director of any group which had been conducted by my musical mentor, Robert Shaw.
During our 1994 Festival, Phyllis and I were advised to take a 2-day trip to Denali (we knew it as Mt. McKinley in those days.) Our fantastic hosts, the Rooneys, handed us the keys to their car and maps (much like my dad had done in 1957) and we headed north for Denali. Along the way, we saw fascinating wildlife and magnificent snow-capped mountains. The drive from Anchorage to Denali is about 4 to 5 hours, and after a couple of hours we rounded a curve in the road and looked ahead. Suddenly there was Denali, filling the entire sky with its majesty. We had never seen such a mountain and it seemed that we were right at the foot of the mountain (although we were still about 2½ hours away!)
We arrived at Talkeetna and located a B&B and checked in. While we were having dinner in a little restaurant all the local residents told us that we had hit the jackpot because this was the clearest they had ever seen Denali. They said that many visitors never see the mountain at all! We also learned from the "locals" that three of their towns folk had just "summited." It was a father and his two young daughters. The small restaurant erupted in applause.
After dinner, we basked in the beauty of the mountain outside our B&B (much of the night - because of the 24-hour light cycle at that time of year.) Finally, we were very sleepy and rested for the remainder of the night. When we awoke early the next morning, we looked out to view again the magnificence of Denali and to our great surprise, it had disappeared. While there was a slight bit of haze, it did not seem excessive to us, but the mountain was gone. Our Question: Who moved Denali?