Stanford Chorale with Berlin Philharmonic
You Take My Picture, I Take Your Camera
After completing the Fall Quarter, the Stanford Chamber Chorale boarded an airplane in San Francisco in mid-December of 1985 and embarked on a 3-month concert tour of Israel and Europe, spending the academic portion of the tour at the Stanford-in-Vienna campus. Mark Mancall, director of Overseas Studies at Stanford had planned the tour in accordance with Stanford policies. We arrived in Tel Aviv and toured extensively throughout Israel, singing in a variety of venues which included an internationally televised concert in Manger Square in Bethlehem on Christmas Eve, and an international choral festival in Jerusalem.

After Christmas, we departed for Rome, Italy and presented multiple concerts in Rome, including at St. Peter's Basilica in the Vatican. Concert in Florence was in the Santa Croce Cathedral, and the concerts in Venice were in San Stae as well as St. Mark's Cathedral.

We then moved on to Vienna. Students began classes which were arranged around our concert performances. Perhaps the highlight of the entire tour was a performance with the Berlin Philharmonic Orchestra with the St. Hedwig's Choir and Roland Bader conducting. We also performed in Munich, Salzburg, Heidelberg, Paris, and London prior to concluding our concert tour.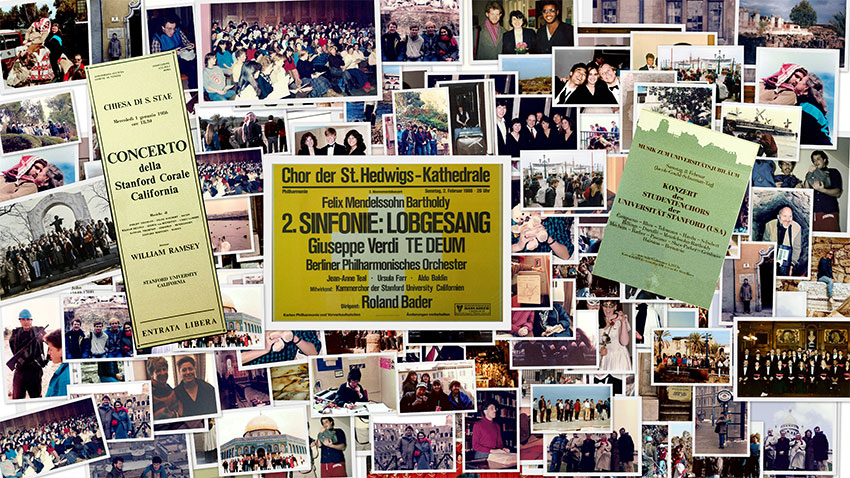 In preparation for the tour, I had purchased the latest in consumer video technology. It was a VHS video camera and was both very heavy and large and a pain to lug around. The quality was not nearly as good as today's iPhone, but it was the best I could afford and did provide some visual and audio record of our experiences.

This is what a "portable" video camera
looked like in the mid-1980s!
Prior to the dress rehearsal in Berlin, I had asked Maestro Bader if it would be permissible for me to video the rehearsal in the Philharmonie Hall. He graciously granted me permission and Phyllis and I took our seats in the balcony to both observe and film.

While we were rehearsing Mendelssohn's Lobgesang, I noticed the principal bassoonist get up from his seat and walk off stage. He disappeared for a few moments and then returned to his seat in the orchestra. I continued to film and suddenly (about 3 minutes and 48 seconds from the beginning of the rehearsal) a rather large man appeared at my side and grabbed the video camera from my hands and asked me to follow him out of the concert hall. Speaking in disapproving and grim German, he informed me that I did not have permission to film and that he was confiscating my camera immediately. I was both shocked and puzzled because I would never have filmed without permission. Apparently, Maestro Bader had not informed the local musician's union that he had given me permission to video tape the rehearsal!

Camera is confiscated!
Fortunately, I was able to retrieve the video camera at the conclusion of the rehearsal.
For extensive photos and audios of the Stanford Chamber Chorale, click here and here.