Stanford University Chorale
Tour of Israel and Central Europe
1985-1986
- MEMORABILIA -

Stanford Chamber Chorale Concert Tour Itinerary 1985/886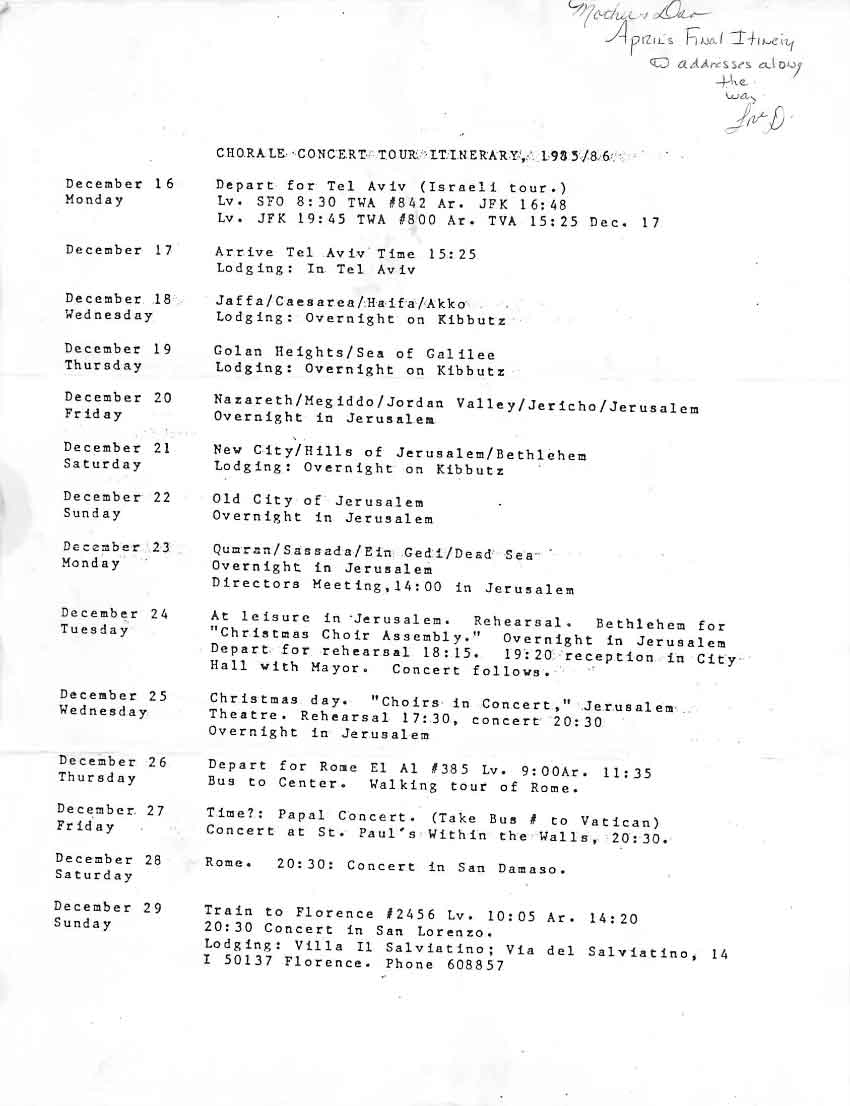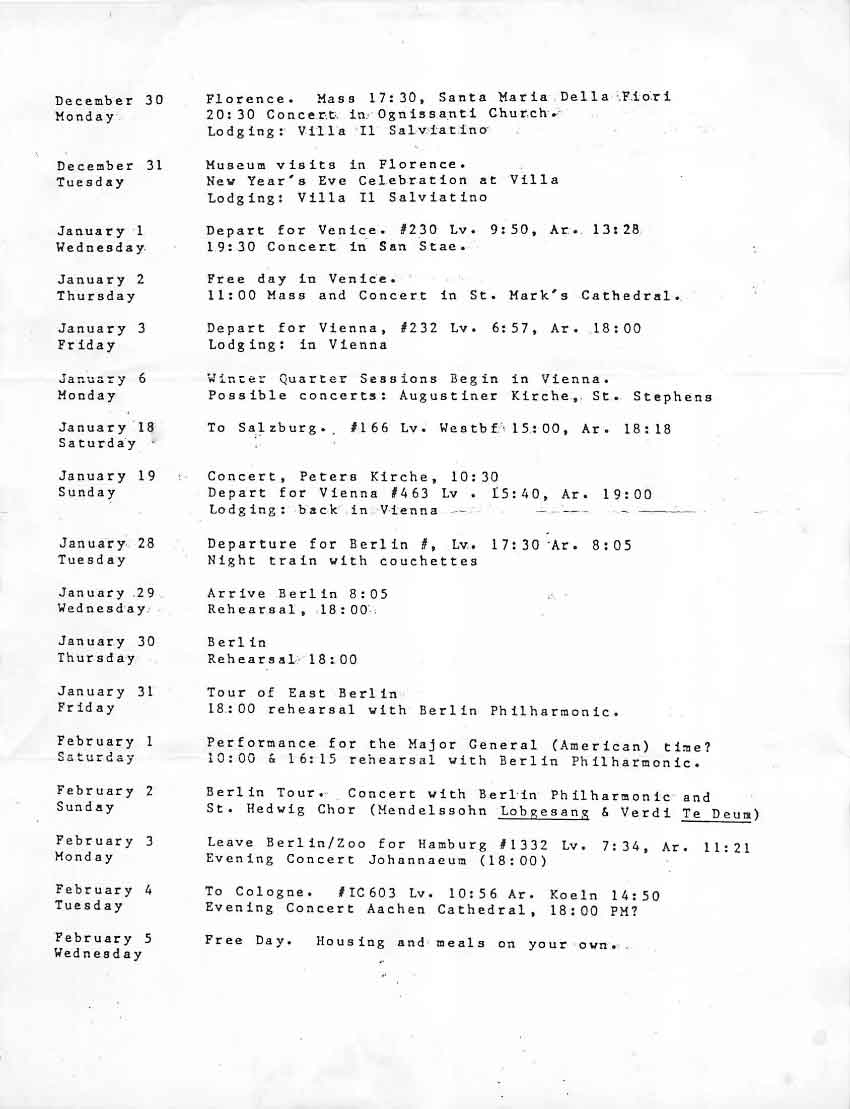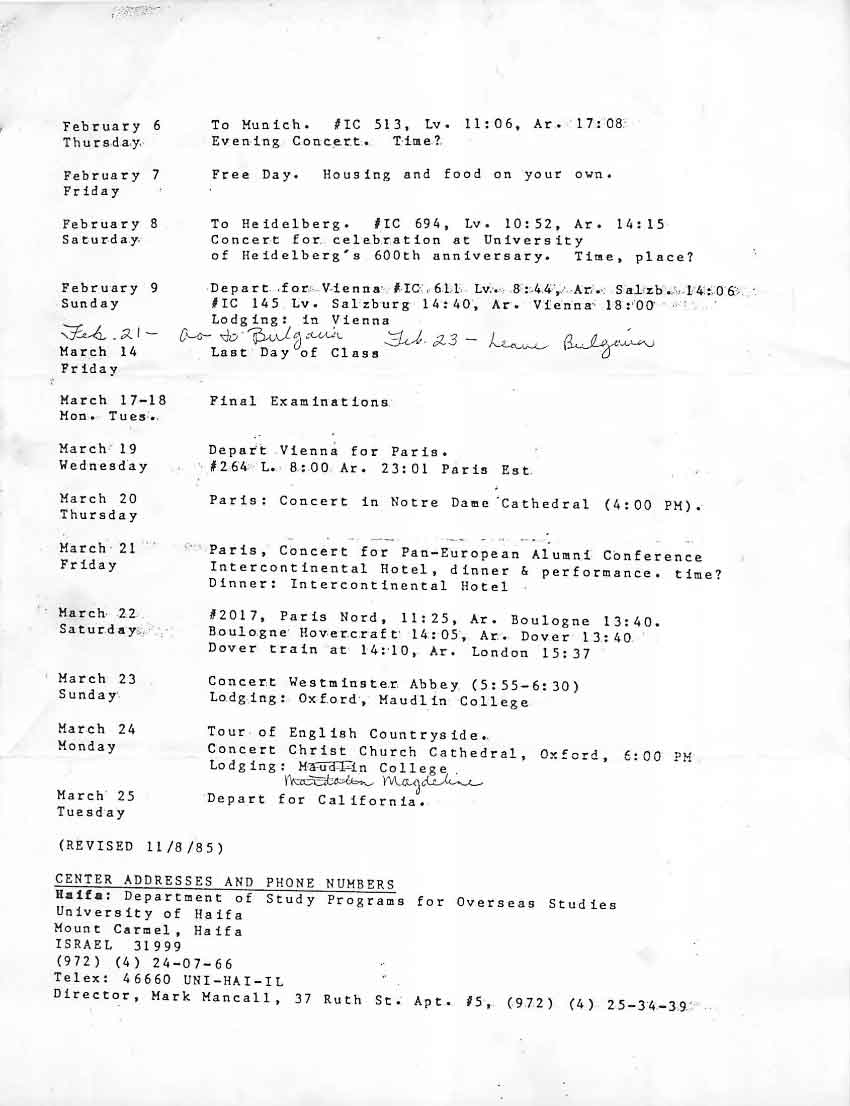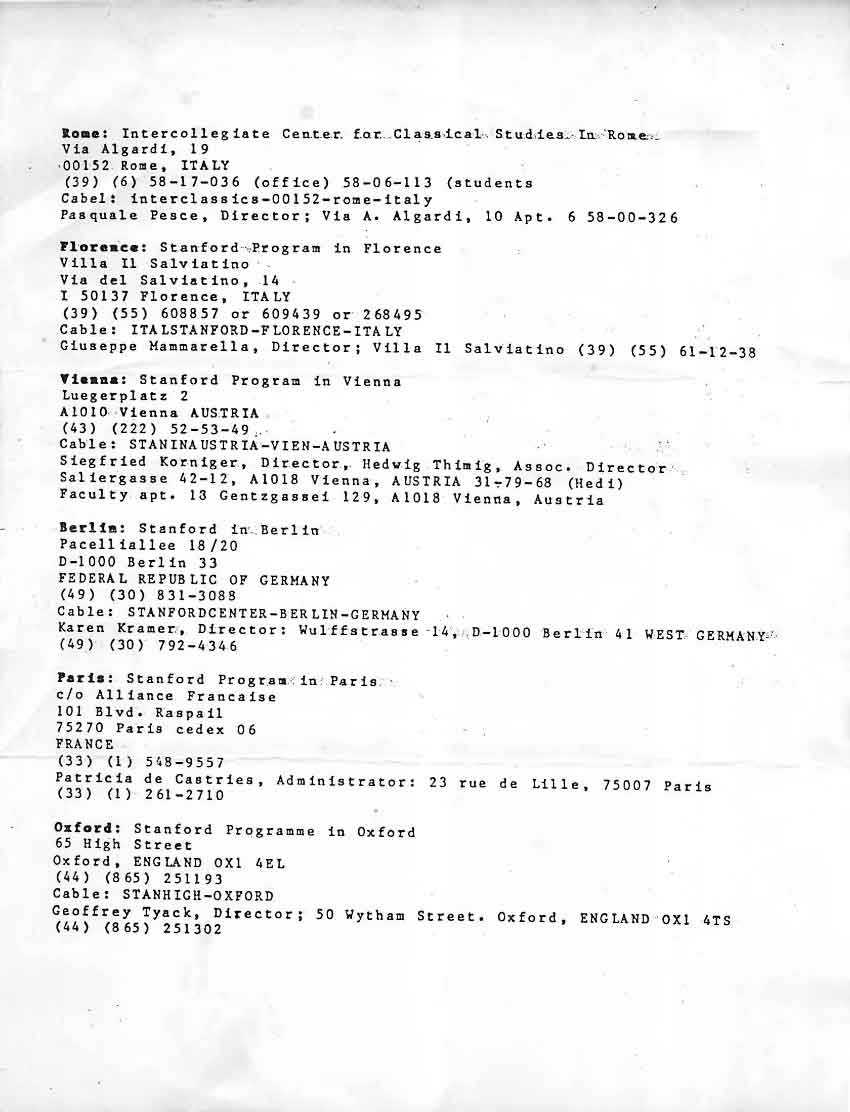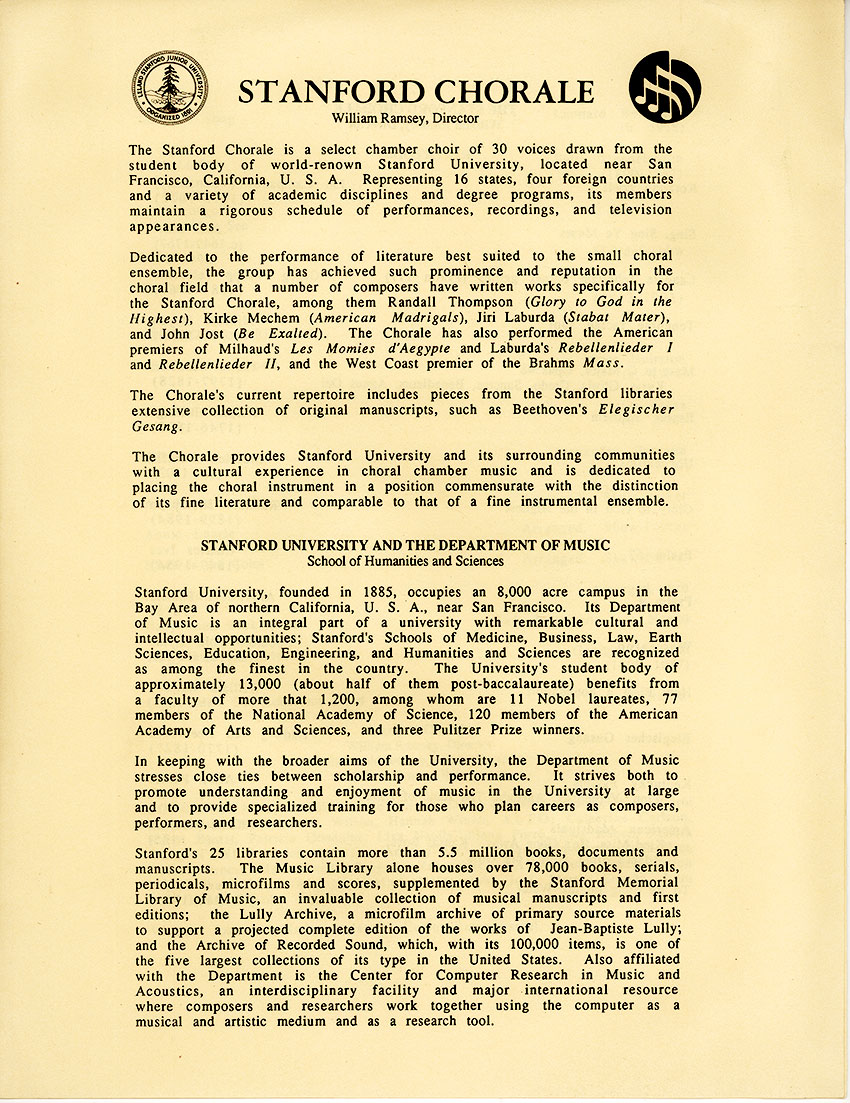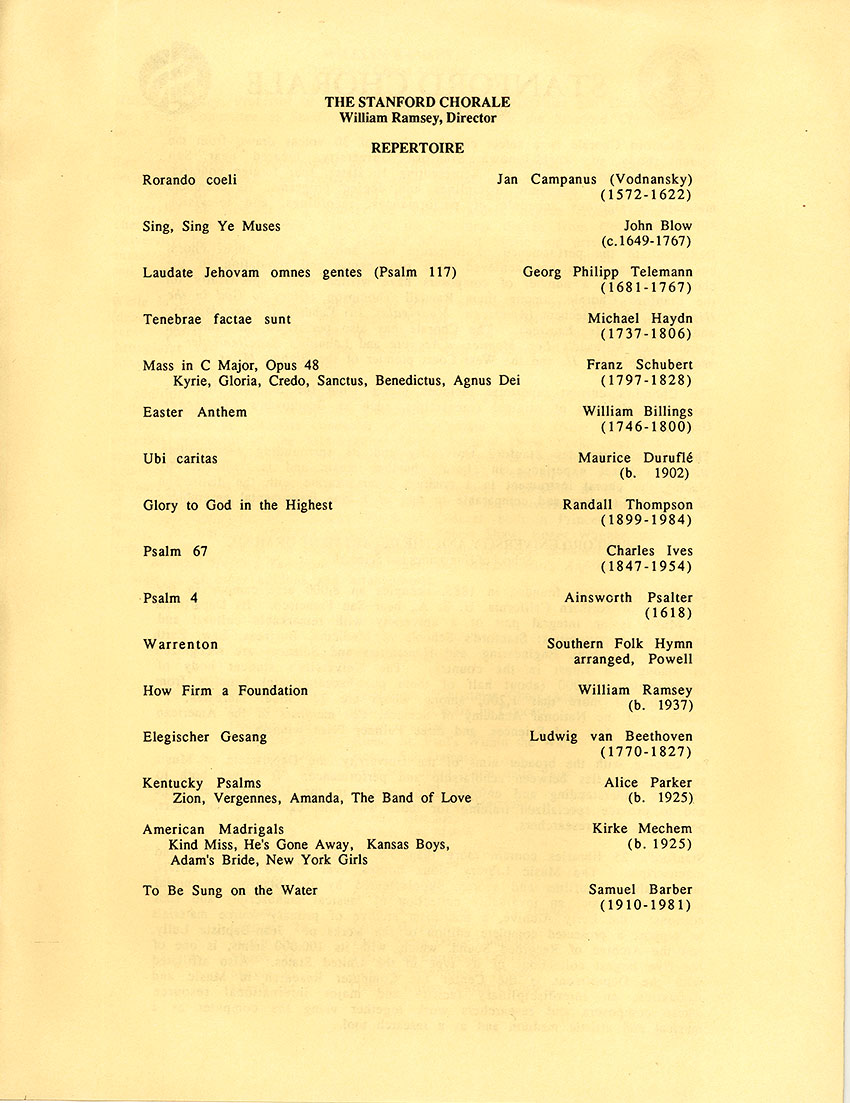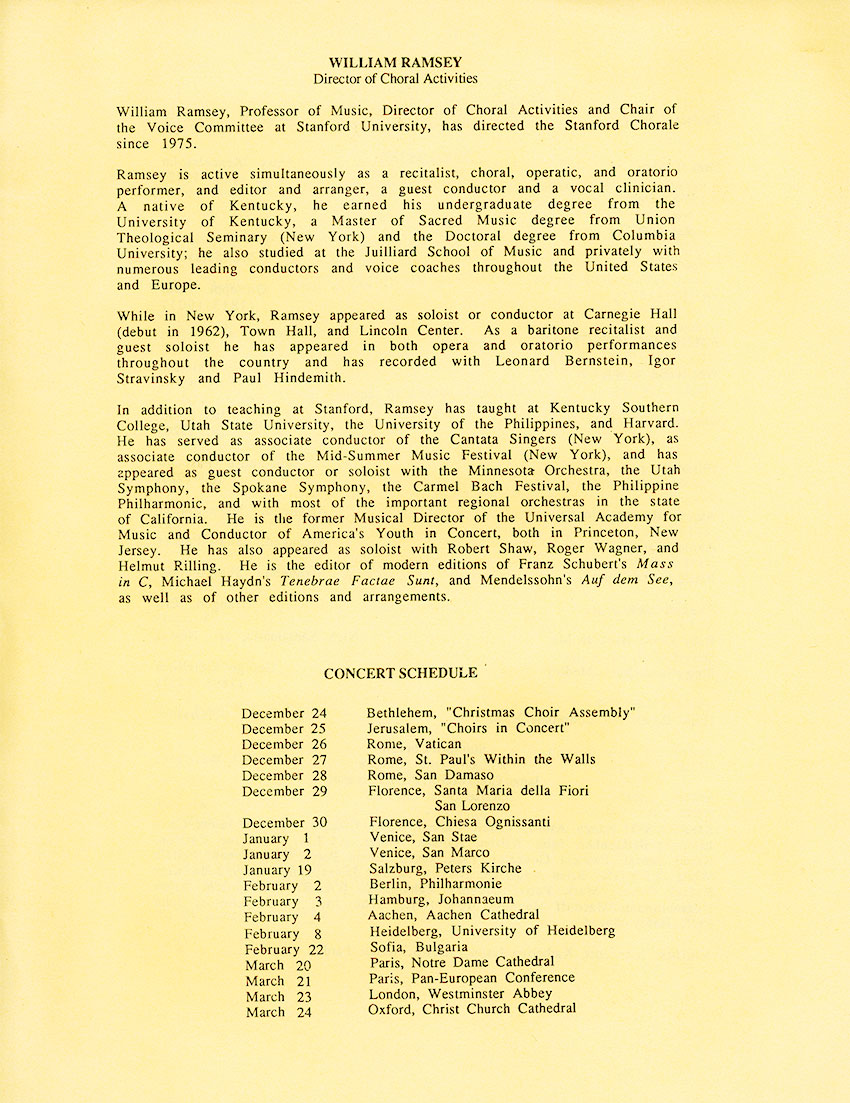 ---
The Stanford Chamber Chorale Performed for the Following Media
• International TV from Bethlehem on Christmas Eve. This event was carried in the USA by ABC.
• BBC-Radio December 1985 in a concert recorded at St. George's Cathedral, Jerusalem.
• ORF-FS1 (channel 1 of the National Austrian TV network).
• Armed Forces Network broadcast from Berlin throughout all of Europe.
The Stanford Chamber Chorale Tour Included the Following Concert Venues
• The University of Haifa, Israel
• The Church of the Sermon on the Mount, Galilee, Israel
• The Fisherman's Church at the Sea of Galilee, Israel
• The Kfar Blum Kibbutz, Israel
• The Church of the Annunciation, Nazareth, Israel
• The Church of the Ascension, Jerusalem, Israel
• The Church of the Garden of Gethsemane, Jerusalem, Israel
• The Church of the Holy Sepulcher, Jerusalem, Israel
• St. George's Cathedral, Jerusalem, Israel
• The Church of the Nativity in Manger Square, Bethlehem, Israel
• The Jerusalem Theater, Jerusalem, Israel
• St. Peter's Basilica, Rome, Italy
• San Paulo dentro Muro, Rome, Italy
• Basilica di San Lorenzo in Damaso, Rome, Italy
• Il Duomo (Basilica di Santa Maria del Fiori), Florence, Italy
• Basilica di San Lorenzo, Florence, Italy
• Chiesa di San Stae, Venice, Italy
• Basilica di San Marco, Venice, Italy
• St. Johannes Basilika, Berlin, Germany
• Berlin Philharmonic Orchestra, with the St. Hedwig Chor, Berlin, Germany
• Gelehrntenschule des Johanneums, Hamburg, Germany
• Aachen Dom, Aachen, Germany
• Gasteig Kulturzentrum, Munich, Germany
• Alte Aule, University of Heidelberg, Germany (600th anniversary of the University of Heidelberg)
• Salzburg Dom, Salzburg, Austria
• Notre Dame Cathedral, Paris, France
• Christ Church Cathedral, Oxford, England
• Westminster Abbey, London, England

---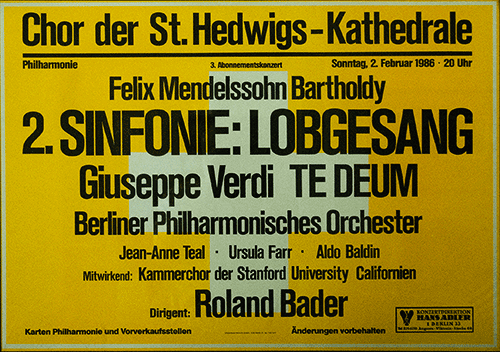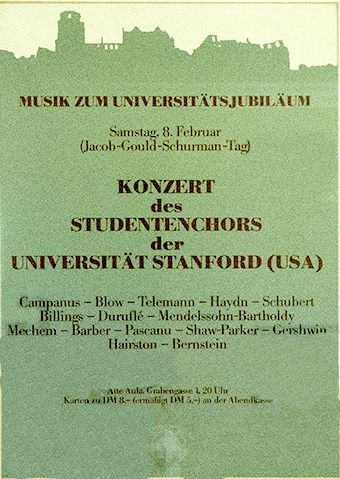 Above Posters from
Joel Bosch

Pieces of the Berlin Wall