Special Visit to the Vatican
In 1971 America's Youth in Concert came into being and continued for many years. Large groups of young musicians who had been selected by audition to participate in either the chorus, the orchestra or the band were greeted and rehearsals began in Princeton, NJ. Our concerts took place in Carnegie Hall and Town Hall in New York City, Constitution Hall, the Kennedy Center and in the East Room of the White House in Washington D.C., (click here for the detail of the White House visit), Royal Albert Hall, St. Martin's in the Field in London, in the historic Grand Platz of Brussels, in Herentals Belgium, the Luxembourg Gardens, Église de la Madeleine, Notre Dame, La Trinite, in Paris, various venues in Zurich, Salzburg, Innsbruck, Lichtenstein, the Doge's Palace, Santa Maria dei Frari, and St. Marks in Venice, Chiesa de Ognissanti, Santa Maria dei fiore, Florence, and Basilica di Massenzio, San Lorenzo in Damaso, San Giovanni in Laterano, Rome and many other venues.  Over 20,000 America's Youth in Concert students have performed 930 concerts in the finest concert venues in 75 cities throughout the United States, Canada, and Europe.

America's Youth in Concert 1974 at the Vatican

Pope Paul VI (This and the following Photos Taken By Me)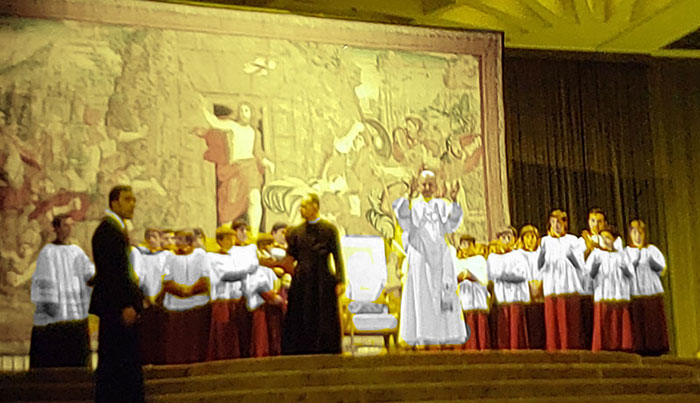 "Private" Audience

Bill and the Pope's Private Secretary
In 1974 following a "private audience" with Pope Paul VI (there were thousands of people in attendance at the event, but a private audience is when the Pope mentions your name) we were having lunch together at Domus Mariae on the Appian Way. Without warning, the Secretary to the Pope rushed into the dining hall and approached our table. He was sweating profusely (it was a very hot day) when he came to me and, speaking in very excited Italian, told me that in the entire history of the Papacy the Pope had never stopped his procession to bless a single group as he had our singers earlier that day. This historic event happened while we were performing The Easter Anthem by William Billings. The Pope was so moved by the performance he invited a few of us to meet with him the next day at his private residence in the Vatican.
When we arrived at the Vatican, we learned that the Pope had become ill and had been moved to Castel Gandolfo in Rocca di Papa outside of Rome, but he insisted that the tour of his residence and the Vatican continue. To my great surprise, he asked his secretary to present his medal to me.

We were then given an extensive tour of the entire Vatican. One thing which especially impressed us was the vivid color of the tapestries in the Residence. Our previous experience with tapestries led us to expect muted colors, but those were brilliant. The visit made a huge impact on our lives.