New York Life With Young Children
AND Looking for Employment
Having graduated in 1961 with honors and earning a Master's degree in Sacred Music from Union Theological Seminary School of Sacred Music and studying with some of the finest musicians in New York City, I was disappointed when I was not immediately hired by a college or university. I applied to a small college in Kentucky, Lindsey Wilson College, which was located not far from my hometown of Somerset. Other than Vassar (which, at the time, only admitted female students), Lindsey Wilson was the only response to my many applications. I was delighted they expressed interest but was very disappointed when they decided not to pursue me further when they learned that I was not a life-long Methodist. I informed them that my maternal grandparents were Methodists, my mother was a Methodist, and even contacted a close minister friend who had recently become a bishop in the Methodist Church in Kentucky. He wrote a strong letter in my behalf, but was informed by the College that because I was not a Methodist, they would not consider me for a position at Lindsey Wilson College.
When I was offered an interview at Vassar, I was very excited but was not overjoyed. Because it was only a women's college at the time I would not have the opportunity to develop mixed-voice choirs. My interview with members of the music department seemed to be successful and my final interview would be with the President, Sarah Gibson Blanding. I entered her office and sat across from her as she reviewed my CV. She said, "I see, Mr. Ramsey, you are from Kentucky. Which part?" I answered, "I'm from the Bluegrass!" President Blanding responded, "Oh, you are from Lexington or Nicholasville?" I answered, "No, I'm from Somerset." She looked at me over the top of her glasses and said forcefully, "Young man, Somerset is not part of the Bluegrass!" I said, "Oh you know Kentucky?" She then told me that she was born on a farm in Kentucky, taught at the University of Kentucky, eventually became the Dean of Women there. Then she told me, "Furthermore, I knew your uncle, Lloyd Ramsey, and your Grandfather, William H. Ramsey, Sr. Yes, I know Kentucky." I was not terribly surprised when I was not offered the job.
Phyllis and I decided to remain in New York City where I took a job as a cataloger in the New York Public Library. Our baby daughter, Cheri, had been born at the end of August (see this story) and I began my new job in early September. In addition to my NYC Library job, I was a paid chorister at The Church of the Incarnation, Associate Conductor of New York City Cantata Singers, Conductor of the Summit New Jersey Chorale, and a professional chorister and/or soloist for various performances in the area. We moved into a 2-bedroom apartment on the 20th floor of The General Grant low-rent housing project for which we paid $35/month on 125th Street in Morningside Heights, near Columbia University, Union Theological Seminary, Juilliard School of Music, the Jewish Theological Seminary, Barnard College, Riverside Church, Grant's Tomb, and the 125th street subway (15¢ per ride - currently $2.75). We could see the giant sign of the Apollo Theater out our window. Needless to say, I was very busy both day and night and spent very little time "at home."

General Grant Housing Project
The following year, I once again sent applications for teaching jobs but, once again, there were no offers. My dear grandmother, Mary Ella Ramsey, suggested that I go back to school and earn a doctorate. I was somewhat surprised at her suggestion because, at that time, the Master's degree was considered the "terminal" degree for music. She offered to help support us if I would enroll in the doctoral program at Columbia. I enrolled but continued my full-time job at the NYC Library and all my other music jobs and also became a full-time student at Columbia University Teachers' College. Although I do not remember precisely the schedule, I was at work at 8:00 AM and attended classes in the late afternoon and/or evening and rehearsals and performances virtually every night and weekend.
During this period of busy chaos, we discovered that only 13½ months after the birth of our daughter, we would be welcoming twin boys into our family while continuing to live in the roach-infested low-rent public housing. We are, to this day, thankful for diaper service. We had three children in cloth diapers as this was many years before disposable diapers were available. As Phyllis would walk to the laundromat while pushing 3 children in a stroller, she would often hear, "you poor thing" or "God bless you." Although both Phyllis and I were constantly busy, our lives were full and we were very happy.
My First Job After New York - Kentucky Southern College
After less than three months at Columbia University, I was offered a teaching job at Kentucky Southern College in Louisville. This was a new school (only in existence for a couple of years) and the administration insisted that all faculty possess an "earned" doctorate. I had begun classes at Columbia in late September and had secured an interview in Kentucky in mid-December.
In an interview with the President of the College, Rollin S. Burhans, I was asked when I anticipated completing my degree. I responded that I had only just started. I was told that I was expected to complete the doctoral degree before coming to KSC but that they wanted me to start at the beginning of the next academic year. I was asked if it would be possible for me to finish in the next 6 months. I shuddered to even consider that possibility. I was then asked for the name of my major professor, Harry Robert Wilson. While still being interviewed, the President asked his secretary to get Dr. Wilson on the phone. In a matter of a few minutes, the president asked Dr. Wilson if completing the degree in the specified time would be possible. The answer was, "It might be possible, but highly unlikely."
When the interview was completed, I was offered the job as Chair of the Music Department and was expected to arrive on campus in September as "Doctor" Ramsey. To my astonishment, I completed all the requirements for the degree which was awarded in late August, just before beginning my work at Kentucky Southern College. Family, school, a full-time job, and multiple singing/conducting performances prepared me for a lifetime of great experiences and I have been blessed and thankful.
As Chair of the Department, it was my responsibility to identify and recommend employing additional needed faculty for the Music Department. One day, I met with the President who informed me that he had hired a new faculty member for Music Education. I was surprised that I had not even been consulted prior to the hiring of the new faculty and expressed concern. I learned that the President had known her previously. She was attractive and was recently widowed.
After one year of working with the new Music Ed. teacher, it became obvious that she was unqualified for the job, had no experience other than teaching grade school music for a short time, and was doing everything in her power to undermine everything I attempted to do at Kentucky Southern College. When it became obvious that it would be impossible for us to work together, I requested a meeting with the President to express my concern and to ask if we could remove her from the faculty. He appeared to be sympathetic to my request and told me that he had made a terrible mistake in hiring her. He told me that he really "liked" her and he would move her from a faculty position to a recruiting position for the College. She would no longer be a part of the Music Department.
The beginning of the next school year included a convocation for new students in which the faculty was introduced. When the President was introducing members of the Music Department, she was introduced as being the Director of Music Education! Following the convocation, I immediately spoke with the President and asked for a meeting. Apparently, he knew what I wanted to discuss and our walk from the auditorium to his office was an awkward silence journey. When we were both seated in his office, I told him that since he did not respect my judgment, I would be resigning at the end of the current academic year. His face turned blood red and he leaned across his desk, shook his finger in my face and said, "Young man, I will see to it that you never have a college teaching position for the remainder of your life."
For the next few months, I applied for various other faculty positions but was not successful in my search. I asked to meet, once again, with the President and apologized for my "immature and rash behavior" and asked him if I could continue as a member of the faculty. He got up from his chair, walked around the desk, and embraced me and congratulated me for "growing up," and told me that he was delighted that I had changed my mind.
My Introduction to Utah
During the previous summer, I had attended a National Association of Teachers of Singing workshop at Brigham Young University in Provo Utah. Kentucky Southern had a policy of sending each faculty member to a convention/workshop, etc. Although there was a similar workshop nearby in Indiana, I had never been to Utah and was excited that the outstanding composer, Michael Head, would be presenting several classes. Shortly after I had apologized to the President, I received a telephone call from Dr. Max Dalby at Utah State University asking if I might be interested in considering a faculty position there. Other members of the workshop and outstanding faculty members of the University of Utah, Betty Jeanne Chipman and Blanche Christiansen, had strongly recommended me. I then flew to Utah for the interview.
I was required to give a short recital for the faculty, after which there was to be a question/answer session, followed by an all-department social gathering. One faculty member, Dr. Twain Tippetts, asked the first question: "Dr. Ramsey, please tell us why you would like to join the Utah State University faculty." I thought for a moment, and then made a horribly narcissistic response, "As I recall, Utah State University contacted me. Perhaps a better question might be, 'why would you like for ME to come here.'" Much to my astonishment, I was offered the position despite my insensitive nacissistic response to the question.
I returned to Louisville and awaited a signed contract. Then, I sent a short note to the President thanking him for the opportunity to grow and be a part of the Kentucky Southern faculty, but that the time had come for me to depart. I did not identify where I would be going or even if I had another job. Two years after I left, the school ceased to exist. Coincidence?

Father Guido Sarducci - Coincidence?
Utah State University

Our days at Utah State University were among the best of our days. There was an excellent and supportive faculty, outstanding students, a wonderful community that valued the arts, especially music. I was allowed to grow and become a better musician and person.

Letter from Carlton Culmsee, Dean of the College of Arts and Sciences, Utah State University
During our 9th year, we were granted sabbatical leave and spent the latter part of the summer and the fall semester in Rome, Italy.
While in Rome, I received an inquiry from Stanford University regarding the Director of Choral Activities. I responded that I would be interested in learning more. I never received a response from Stanford but thought that, perhaps, the international mail system (specifically as it related to Italy) may have been to blame. We journeyed to the Vatican daily to collect our mail as we didn't trust the regular Italian mail system.
The sabbatical ended and I returned to Utah State University and assumed my duties. Soon thereafter, I was walking down the hall outside my office and heard the new organ in the nearby concert hall. It was a bit startling since we did not yet have a resident organist on the faculty. Furthermore, the organist was playing a very interesting arrangement of Wagner's Ride of the Valkyries – something which was very unusual at USU since we didn't yet have an instructor in organ.
I opened the door to the organ loft and introduced myself to a gifted young musician, James Welch. After a short chat, I learned that he was currently a doctoral student in organ at Stanford University. I told him about the inquiry that I had received while on sabbatical. He told me that the position had been put "on hold" but he would look into it when he returned to Stanford.
Stanford University
Soon I received a call from the Stanford Department Chair asking me if I would still be interested and he invited me to Stanford for a visit and interview. As it turned out, Jim Welch was the student committee member on the search committee. The interview seemed to go well and I was soon offered the position of Director of Choral Activities.
The difference in the approach to music and the arts at Stanford was quite different from Utah State University. At USU the emphasis was always focused upon performance, whether vocal/choral or instrumental (keyboard, band, orchestra.) At Stanford, the primary emphasis was upon studying music as a discipline. The study of music history, analysis, composition prevailed. My primary artistic responsibilities were three choral organizations (a town/gown Symphonic Chorus, a small chamber choir, and the Stanford Memorial Church Choir.) My primary academic responsibilities were the teaching of graduate students enrolled in the Doctor of Musical Arts program - a 3-year program that combined the theoretical and performing aspects of choral music. The DMA students were excellent musicians with brilliant minds.
Among the most memorable artistic experiences at Stanford were the semesters of Bach-oriented performances at Stanford Memorial Church. We attempted to follow, as nearly as possible, the services which were experienced at the St. Tomas Kirche in Leipzig during Johann Sebastian Bach's tenure. We employed a full orchestra and professional soloists and presented a Bach cantata during the service for 10 Sundays during the semester.
The Chamber Choir spent a full semester in residence in Vienna which was coupled with a wonderful performance tour in Israel and throughout central Europe. The Symphonic Chorus presented one concert each semester performing major choral works with chorus and orchestra. All in all, I was once again allowed to grow musically and to bring about some of the most exhilarating performances in my entire career.
One day in the early 90s, I was summoned to the Dean's office. I asked my colleague, John Chowning, if he had any idea why I would be asked to meet with the Dean. John told me that the Dean was probably going to ask me to serve as Chair of the Department. I told John that I didn't think I would ever consider doing that job. I had served as Chair during a couple of summers and thought that I was not suited for that kind of position. John told me that I would be fantastic and that my program in the Music Department had been the most successful of all the programs with approximately 30 DMA students graduated during my tenure. I told him I would at least consider it.
I met with the Assistant Dean, Carolyn Lougee. She got right to the point. She said that the decision had been made to eliminate the DMA program and, although I had tenure and was welcome to remain at Stanford, she said that they "didn't think you will be happy." This was said in such a way that I assumed that the implication was that it was virtually certain that I would "not be happy." I left the Dean's office and as soon as I was out of the building, I began to laugh. It just showed me how much expectations and reality can differ. Instead of being asked to become Chair of the Department, I was essentially encouraged to leave. DNA (Do Not Anticipate!)
California State University, Chico
After nearly 20 years at Stanford, with the DMA eliminated and, although I was a tenured full professor, I decided to conclude my career at California State University at Chico. The next five years were a revelation because of the differences in attitudes and approaches to the musical art. Like Utah State University, the emphasis was on performance, but unlike the students at Stanford or USU, the CSU students seemed to be more focused on getting a degree than on learning. I taught there for 5 years before retiring in 2000.
Diplomas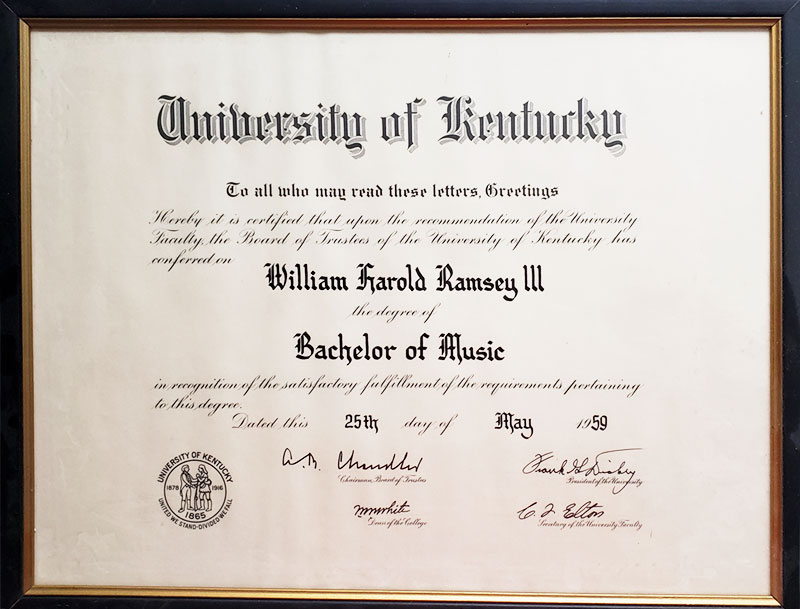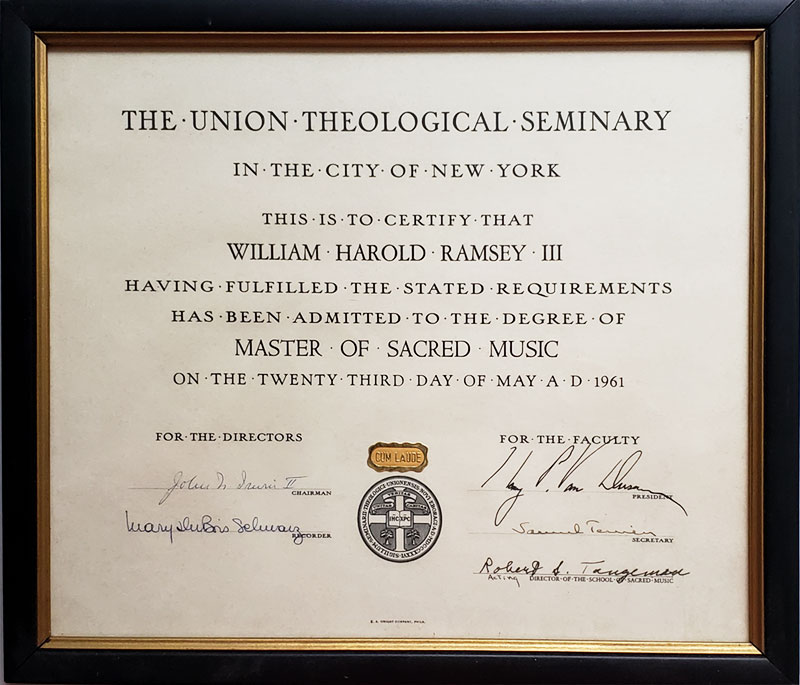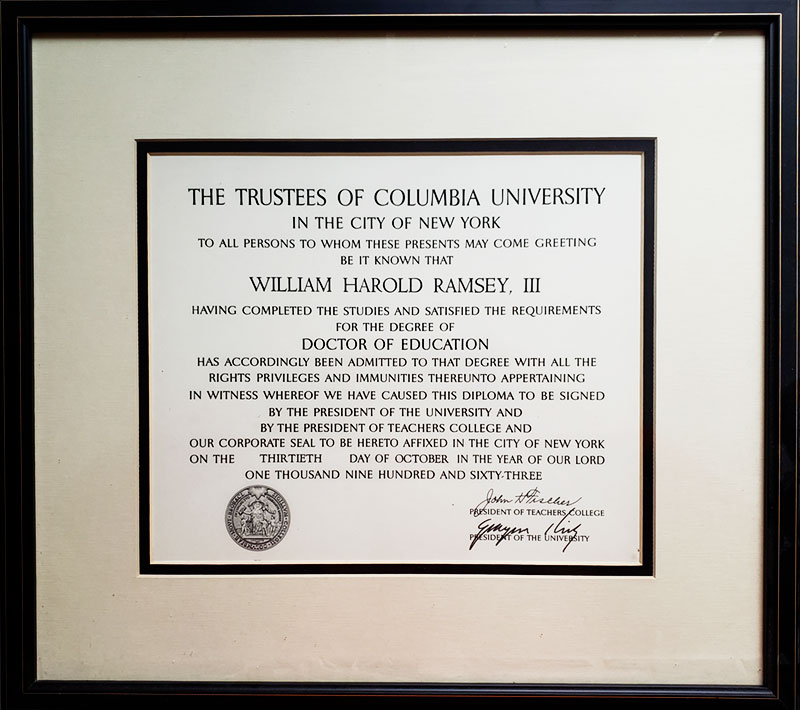 Retrospective
In retrospect, all my educational opportunities and my teaching experiences provided excellent opportunities for personal and musical growth, making enduring friends, and performing great music. I have been extremely fortunate and blessed.