Julia Child
During the summer of 1984, we were teaching at Harvard University. Our duties included a seminar in Masterworks of Choral Literature, as well as conducting the Harvard Summer Chorus. Our experiences ranged having our car towed many miles away because of my accidental illegal parking, to being housed in a soon-to-be condemned building with a single cot with no sheets! These were the difficult parts of our summer, but there were some memorable events as well. The Summer Chorus was a wonderful group which was very supportive and enthusiastic, and the performance was a huge success. The members of the Boston Symphony who accompanied the concert played magnificently.
One afternoon Phyllis and I were grocery shopping at Star Market (in Boston it is pronounced Stahhh Mahhket.) While selecting produce, we were accidentally bumped by another shopper's cart. We immediately recognized the easily identifiable voice even before we turned to look at the person. I looked up to find a very tall woman and her rather short husband (Paul), the most famous chef in America, Julia Child. We spoke briefly and continued our shopping.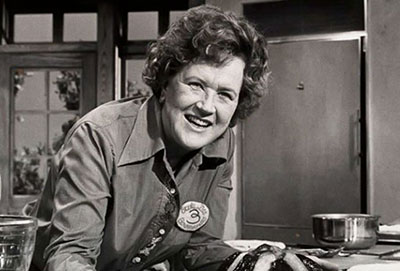 We had long admired Julia Child's television programs (I think we had already seen every cooking program she had recorded and owned all of her books.) I remember that she was carefully examining cantaloupes. We, too, purchased one to take to our apartment. Since that day, we have never purchased cantaloupes without thinking of Julia Child.