Great Musicians Who Greatly Influenced Me
(Many photos taken by me)
Robert Shaw
Probably the most influential musician on my life was the great Robert Shaw. I had long known of this great musician/conductor/philosopher and had religiously collected each of his numerous recordings. He was, without a doubt, the finest choral conductor who ever lived.
During my 2nd year at the University I learned that he would be teaching at San Diego State College during the summer. I made application to attend (hoping that I would be admitted but not certain that I had sufficient experience and training to do so.) I was thrilled when accepted and made plans to drive to San Diego for the summer. As fate would have it, I happened to find housing in a fraternity house directly across the street from where Mr. Shaw lived for the summer. In addition, strictly by chance, I became acquainted with his daughter, Johanna, and his son, Peter, as well as occasionally would baby-sit his youngest son, Thaddeus.
Others who attended that particular workshop were Weston Nobel, and Maurice Casey. We had daily classes and rehearsals. We also performed with the San Diego Symphony Orchestra. Every rehearsal with Mr. Shaw was an enlightening learning experience. Not only did I have the opportunity to learn from him during classes and rehearsals, I also was fortunate to be able to attend social events with him.
One day, Mr. Shaw told me about the Anchorage Festival of Music which he conducted. He told me that I should plan to attend that event if possible. I never dreamed that one day I would be asked to become the Director of the Anchorage Festival.
When living in New York city and attending both Union Theological Seminary School of Sacred Music as well as Columbia University Teachers College, I had the privilege of attending every rehearsal, performance, and recording session Mr. Shaw would have with the Robert Shaw Chorale in New York. I even became his "baton carrier" during those days. I will forever be indebted to Robert Shaw for showing me the way to magnificent music.

Robert Shaw, conductor and Isaac Stern in Rehearsal
(Photo by William Ramsey in San Diego, 1957)

Robert Shaw in rehearsal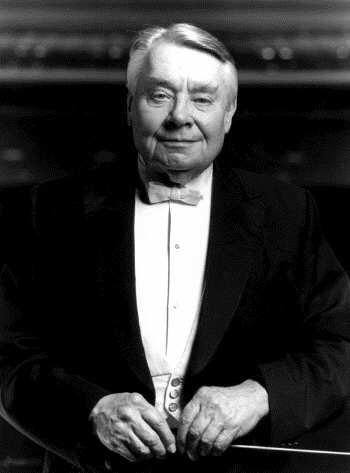 ---
Julius Herford
As part of the scheduled classes at San Diego Choral Workshop were analysis sessions with Julius Herford, a world-renowned musical scholar, pianist, and philosopher. Mr. Shaw had often said that Mr. Herford taught him music and he taught Mr. Herford how to swear! Phyllis and I became close friends with Mr. Herford and his wife, Hanna and were fortunate to have social interactions with them.
One evening, Hanna invited Phyllis and me to their house for dinner. Joining us for dinner would be John and Nancy Wustman, Robert and Maxine Shaw. Before we left to go to their house I mentioned to Phyllis that we might be offered some alcoholic beverage. Being reared in a "dry county" in Kentucky and reared in the t-totally religion of Baptists we neither had ever partaken of beer, wine, or other "spirits."
'What would we do if offered alcohol' was the subject of an extended discussion. I had been told from a very early age that if I took only one sip of alcohol I would possibly become an "alcoholic." Could I risk such a horrible future for myself? On the other hand, how would my refusal of the Herford's hospitality affect the evening? We determined that if offered alcohol, we would accept. Sure enough, we were offered a wine punch, complete with luscious strawberries. The punch was delicious and I shall never forget watching Phyllis fishing for the strawberry! As far as we know, neither of us became alcoholics!
We had many social events with the Herfords after we moved to New York City. Mr. Herford was once again my teacher and mentor while studying at Union. His insight into musical analysis and the historical analysis had been foremost in my musical preparation.

Julius Herford, musicologist
(Photo by William Ramsey, 1958)
---
Another member of the San Diego Choral Workshop was a young man (originally from Michigan) who served as Mr. Shaw's accompanist. John Wustman also gave voice lessons and I took the opportunity of studying with him during the summer. In those days my Kentucky accent was quite pronounced and I had spoken exactly like most everyone in my little home town of Somerset. We called the state immediately north of Kentucky, "Oh-high-uh" or an opening in the side of a building which was covered by glass we called, win-duh. John was very gentle in correcting my various pronunciations, but I will never forget that particular learning experience.
After we moved to New York City, we would visit with John and Nancy - both at our place and theirs. When I gave my recital at the conclusion of my Master's degree, John played for me. He was the finest pianist I have ever known. What he loved most dearly was accompanying singers. Not only did he play for the Robert Shaw Chorale, he also was the principal accompanist for Luciano Pavarotti, Renata Scotto, Mirella Freni, Elisabeth Schwarzkopf, Régine Crespin, Christa Ludwig, Birgit Nilsson, Carlo Bergonzi, Nicolai Gedda and Dietrich Fischer-Dieskau to name only a few.
John also founded the accompanying program at the University of Illinois. Among his most distinguished students are Jerry Hadley, Erie Mills, Nathan Gunn, and Zhou Zheng.

?, John Wustman, Nancy Wustman, and Hanna Herford - 1958
(Photo by William Ramsey)

A more mature John Wustman, pianist
---
Of all the various arrangers of choral music, Alice Parker (of the Shaw-Parker fame) was the very best. She did virtually all the arrangements which Mr. Shaw would record. We first met at the San Diego choral workshop. Alice was married to Tommy Pyle (who was the primary contractor for any choral event in New York City) and they lived in a lovely apartment which we often visited. Alice initially was known mostly as an arranger, but soon became renowned for her own compositions.
Alice loved to cook, make bread, and thoroughly enjoyed her summers which often were spent in Massachusetts. We were guests at her Singing Brook Farm on various occasions.

Phyllis and Alice Parker Walking at Singing Brook Farm
Photo by William Ramsey
Our babies and some of hers were about the same age. Alice was always generous and hospitable and we loved spending time with the Parker-Pyles.
I always admired her approach to choral arrangements and emulated this style in several of my own publications. We are indebted to Alice and her family for giving us a love for arranging.

Alice Parker, composer, arranger
See another article about Alice Parker by clicking here
---
Roger Wagner
Phyllis and I had just married and were headed to San Diego for my second summer at the Choral Workshop. Instead of Robert Shaw as the headliner, another well-known and respected conductor took his place. Roger Wagner was widely recorded and the reputation of the Roger Wagner Chorale was well known.
While quite different in approach, Roger Wagner was interesting to watch and to analyze. He was born in France and lived a rich lifestyle in the Hollywood area. I was fortunate to have been selected as a soloist for a performance of the St. Matthew Passion of Bach which we performed.

Roger Wagner, conductor
(Photo by William Ramsey, 1958)

Roger Wagner, conductor and Marilyn Horne, mezzo soprano
(Photo by William Ramsey, 1958)
---
Robert Fountain
I had long known the reputation of Robert Fountain and the outstanding program he ran at Oberlin Conservatory of Music. He came to Union during the summer of 1960 for a choral workshop. He was a very tall handsome man with extremely long arms. His approach to the choral art was wonderful. He seemed to love every minute of his work and his enjoyment of the music and the art of making music was contagious. The photo below was taken in our small apartment in Hastings Hall at Union.

Robert Fountain, conductor
(Photo by William Ramsey, in our appartment at Union Seminary, 1960)
---
Union Seminary was across the street from Juilliard School of Music when I was a student. The proximity of the two schools allowed Union to use the services of Juilliard's finest professors. Sergius Kagen taught a pedagogy/coaching class which I attended for two years. He was both a professional pianist and singer and highly respected and renown for his 2 books: Music for the Voice and On Studying Singing.

Sergius Kagen, Vocal Coach, Pedagog, Pianist
(Photo by William Ramsey, 1960)
---
Another Juilliard faculty member and Metropolitan Opera coach/diction expert was Madeleine Marshall. We had the unique opportunity of taking two years of classes with the best expert in diction. She had an unusual teaching style which was both informative and engaging. Her book, The Singer's Manuel of English Diction, was the standard treatise on the subject since it was first published in 1953. Reviewing her book in The New York Times, Howard Taubman wrote: "What all the advice aims at is the eternal one of learning to make technique the servant of art. As Miss Marshall sums it up, articulation should be 'so persuasive that no one will be conscious of method.' " Over the years, she was coach and accompanist for many artists, including Lily Pons, Helen Traubel, Leontyne Price, Lawrence Tibbett and Lauritz Melchior. She began her career as a concert pianist and performed as soloist with the New York Philharmonic under Arturo Toscanini and other conductors.

Madeleine Marshall, English/French Diction
(Photo by William Ramsey, in class, 1960)
---
Leonard Bernstein
While I only participated in a few performances conducted by Leonard Bernstein, I learned a great deal from this fantastic conductor. His televised dramatic conducting was not what I experienced as a performer. He had a profound understanding of the musical works and a great command of the orchestra under his direction. He seemed to be a concerned leader and conducted with understanding and authority. I greatly appreciate the opportunity I had to closely observe this great musician/composer/leader and thank him for his leadership in bringing artistic understanding to the general public.
---
When I arrived at Stanford, I was introduced to Maestro Sandor Salgo, a Hungarian conductor who had taught for many years at Stanford but had recently retired. He was also the Director of the California Bach Festival in Carmel, California as well as the conductor of various symphony orchestras in the Bay Area (the Marin Symphony, the Modesto Symphony, etc.)
During my first year at Stanford, I was programmed to sing Il Maestro di Cappella of Cimarosa with the Stanford Symphony. Maestro Salgo attended the performance and invited me to perform the work as a part of the program of the Bach Festival as well as sing the role of Papageno in Mozart's The Magic Flute. Maestro Salgo was one of the finest conductors I have ever known. His knowledge of musical literature was profound and his affable manner endeared him to all who had the privilege to perform under his baton.

Sandor Salgo, conductor

---
While I was still a student at Union Theological Seminary School of Sacred Music, I made contact with Thomas Dunn, who was the Music Director of The Church of the Incarnation as well as the Director of the New York Cantata Singers. I first auditioned to sing as a member of the Church of the Incarnation and only later was asked by Mr. Dunn to become an Associate Director of The Cantata Singers. The organization had a long and distinguished history of outstanding leaders: Paul Boepple (1934) as an extension of the Dalcroze School of Music. In 1936 Arthur Mendel assumed the directorship of the organization and remained until Alfred Mann became Director in 1953. Thomas Dunn became Director of Cantata Singers in 1959. I joined the organization in 1960 as Associate Conductor.
Mr. Dunn did an outstanding job of forming the goals of Cantata Singers. He introduced me to Charles Bressler, tenor, Albert Fuller, harpsichord, Frank Campbell, director of the Music Division of the New York Public Library, and outstanding flutist John Solum. Together these artists revolutionized the music scene in NYC. I was fortunate to be able to be included in this historically informed approach to music and to bring it to life in the modern era.
Tommy eventually moved to Boston to become the editor-in-chief of E.C. Schirmer music publishing company and the Director of the Handel and Haydn Society.

Thomas Dunn
---
Igor Stravinsky
In observance of his 80th birthday, Igor Stravinsky conducted a series of concerts of his works which I was privileged to attend. His energy and interpretation (who better to interpret Stravinsky than Stravinsky) were enlightening. I had many years earlier been captivated by his music and at last was able to see his personal evolution in performance.

Igor Stravinsky, composer
---
Paul Hindemith
When Lilacs Last in the Dooryard Bloom'd: A Requiem for Those We Love by Hindemith is one of the great choral/orchestral works of the 20th Century. Written in 1946 and based on a Walt Whitman poem, I was fortunate to be able to perform and record the work in Philharmonic Hall of Lincoln Center with Hindemith rehearsing and conducting. He exhibited endless patience and constraint as all performers were forced to wait approximately a half hour until one of the soloists arrived. His interpretation of his own work brought insight I had never considered. How wonderful to be able to sing this great work under the leadership of the composer.

Paul Hindemith, composer
---
Aaron Copeland
Philharmonic Hall at Lincoln Center in New York City opened on September 23, 1963. As a member of the chorus (performing the Gloria from Missa Solemnis of Beethoven and the Mahler Symphony No. 8, Part I, Veni Creator Spiritus under the baton of Leonard Bernstein) I was also fortunate to watch Aaron Copeland bring to life his newest composition, Orchestral Connections, in its world premiere. He was gentle but insistent upon accuracy and intent.

Aaron Copeland, composer
---
While on sabbatical leave and living in Rome, Italy, I made an appointment to audition with Maestro Ricci to coach with him. His reputation was far-reaching. He had been one of Giacomo Puccini's closest associates, having conducted many premieres of Puccini's works. He was also closely associated with Pietro Mascagni, Ottorino Respighi, Umberto Giordano, and others. The finest singers in the world journeyed to Rome to study with him. Among his students were Ezio Pinza, Beniamino Gigli, Tito Gobbi, Anna Moffo, Rosalindo Elias and many others.
After my audition (Maestro Ricci only spoke Italian with me) he told me that he would be happy to take me as his student. In my somewhat broken Italian, I asked when I should come for my lesson. He said I should be there at 4:30. I asked, "which day" and he answered that I should come every day. I thought that I probably misunderstood and attempted to have him clarify his answer. He explained that I was there for only a short time (3 months) and that I should see him daily. I explained that we were on a very limited budget and he agreed that I could have Sunday as a free day if that would help our financial situation. I then meekly inquired about the cost per lesson. I was flabbergasted when he told me that my lessons would be approximately $5 US dollars for a one-hour lesson!
In the photo below, you can see Maestro Ricci at the piano. The many photos are of some of the world's greatest composers and singers. Anna Moffo's photo is just above my left hand and Respighi's photo is on the far right on the piano.

Luigi Ricci, conductor, vocal coach
(Photo by Phyllis Ramsey of Ricci and William Ramsey)
---
In addition to coaching with Luigi Ricci, I also sought a voice teacher. It had been many years since I had taken voice lessons. I had studied during my undergraduate days with Aimo Kiviniemi at the University of Kentucky and with Hans Heinz at Juilliard. The last formal lesson had been approximately 10 years earlier. I had been a voice teacher since I earned my doctoral degree and had little time to study as I was teaching about 50 students per week.
One of the primary reasons we chose Rome for our sabbatical was to become better acquainted with the musical life of Italy, specifically to learn from Luigi Trevisan, who was instrumental in rescuing the first tour of America's Youth in Concert in 1971. He also happened to be the husband of the soprano, Renata Heredia Capnist. Arrangements were made and I was blessed to have a one-hour lesson per week with Renata as well as the 6-days-per-week coaching sessions with Luigi Ricci.

Renata Heredia Capnist, soprano, voice teacher
(Photo by Phyllis Ramsey of Renata and William Ramsey)

Renata Heredia Capnist in Tosca with Franco Corelli
---
George Shirley

George Shirley receives the National Medal of the Arts

The Church of the Incarnation was one of the most musical churches in New York City - a city which was overflowing with outstanding music in various venues. I was hired to be one of the 4 professional singers in the bass section (David Clatworthy, Maurice Casey, Tommy Pyle, and me!) The other sections of the choir were also populated with equally outstanding professional singers. Like most churches in the city, our rehearsals were always on Thursday evenings for 1½ hours with services at 11:00 on Sunday mornings. The church was not a particularly large church, but we did have a very supportive Rector and some rather well-known personalities in the congregation. One I especially remember was the singer, Kate Smith (who was probably the best-known singer during World War II.) I would pass her every Sunday morning during "processional" and she never sang the hymns - I was told that was because her voice was so big and powerful, she declined to sing the hymns in order not to detract from the congregational singing. She is best remembered for her singing of God Bless America.

The Church of the Incarnation
Although the 16-voice choir was a relatively stable population, we did, occasionally, have new voices join when others left for other singing "gigs." One such addition was the tenor, George Shirley. He had been a member of the U.S. Army Men's Chorus and he was no longer a member of the armed services. I remember how impressed I was when I first heard his voice. Like most members of the choir, he was humble and very personable.
One Thursday evening at the rehearsal, the Organist/Choir Director, Thomas Dunn, announced that George would not be attending that evening's rehearsal because, in that afternoon, he had won the Metropolitan Opera National Competition. After resounding applause from the remaining 15 members, we were about to begin rehearsal when we all spontaneously decided that George should attend the rehearsal (of course, we were all joking.) Tommy asked me to go to the office and call George and tell him that he must come to the rehearsal regardless of the fact that he had just won the most prestigious singing competition in the world.
As instructed, I left the rehearsal momentarily and called George delivering the fake message. He laughed and said that he thought that, because of the events of the day, he could be excused. I then told him that the entire choir was so excited that we would all like to come to his apartment to congratulate him. He agreed and after a short rehearsal, we departed to have a celebration party. We stopped on the way to purchase congratulatory foods and drinks and arrived at George and Gladys' apartment and toasted our friend and colleague on his fantastic achievement. I also remember after a short celebration that George told us that he would have to leave, due to the fact that he was recording a commercial at midnight.
George was the first African-American tenor to sing a leading role at the Metropolitan Opera. He was awarded the 2014 National Medal of the Arts by President Barack Obama. George and I have remained close friends since he first joined the choir at Incarnation. He has had a wonderful career - at the Met and throughout the world. He furthered his career as a Distinguished Professor at the University of Michigan. For my last concert with the Steiner Chorale in East Lansing, I asked George to join us as soloist. He graciously accepted and we celebrated our friendship yet once again. He had just turned 80 years of age and still sang better than most people I have ever heard.

George Shirley & Bill after the concert
(Photo, 2013)
Click here to for more information about George Shirley
---
Jester Hairston
One of the most personable musicians I have ever met was the composer, arranger, actor, singer, conductor, personality, Jester Hairston. The president of Utah State University had suggested that we bring Jester to Utah State for a concert. I, of course, had long known the arrangements of this wonderful person and was honored that Dr. Taggart offered to bring him to our school for what can only be described as an experience! In my early musical endeavors, I had programmed many of his compositions, including Poor Man Lazrus, Mary's Little Boy Child, and countless others. Jester was considered as the leading expert on Negro Spirituals and I jumped at the opportunity to learn from this great musician. I had also known of Jester's most famous composition, Amen, which was sung by Sydney Poitier in the great movie, Lilies of the Field, but was unaware that it was really Jester who was singing. As he said, "Sydney can't sing!"
He spent a week with my University choral group and we then presented a concert with Jester as the conductor, MC, and master of the stage. Prior to this experience in 1970, I had never met Jester and only seen him in films like To Kill a Mockingbird, or on TV, in shows like The Amos and Andy Show.
After the week spent with Jester, I received a call from Norman Warembud, manager of publications at Bourne Music Company, asking if we would consider recording a couple of record albums with Jester, and also if we could make a film for the popular Sunday morning program, Lamp Unto My Feet, which was broadcast from 1949-1979 on the CBS Television Network.
After the recordings and the TV program, Jester became a close friend of our family. Every Christmas he would send a hand-written card to our daughter, Cheri. He invited us to visit his home which was directly across the street from that of Ferde Grofé (composer of The Grand Canyon Suite and many other outstanding musical compositions.) Jester was an avid collector of beer steins which he proudly exhibited in his home.
I had invited him back to Utah to conduct the Utah All-State-Chorus. As we were standing in the wings prior to his walking on stage, we were listening to the final piece of the All-State-Band. The piece was a very low-energy and solemn composition. Jester turned to me and said, "How does he expect to get a standing ovation like that?" Jester was a one-of-a-kind and a dear personal friend.

Program from Jester's performance at USU

Jester wrote this letter to my mother in 1972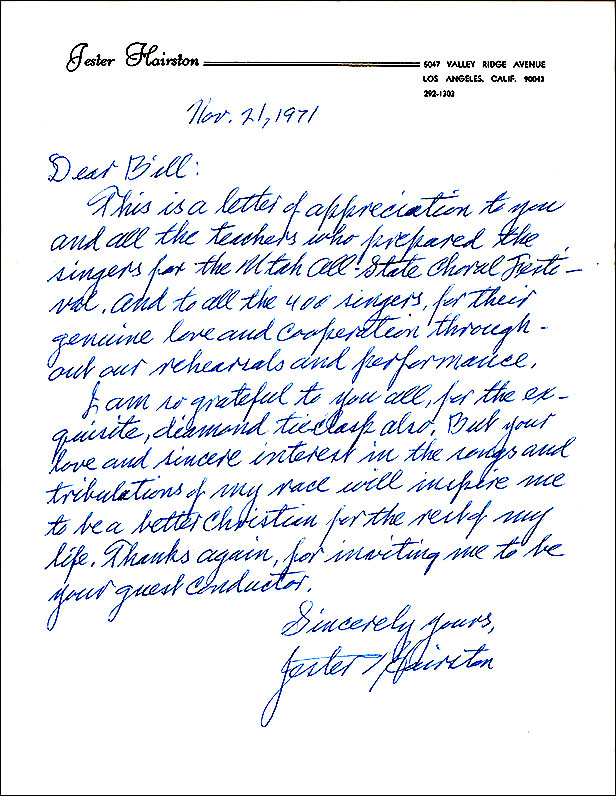 I received many letters from Jester - this one for the Utah All-State Chorus

Click here for more information about Jester Hairston
---
Howard Hanson
Early in my tenure at Stanford, we invited Howard Hanson to conduct his new composition, New Land New Covenant, composed in 1976. Although he was already in his 80s, he journeyed to Palo Alto and graciously sat and listened after asking me to conduct a run-through of his new composition. It was amazing to watch this elderly maestro mount the podium and then come alive with boundless energy and passion as he began conducting.
Off the podium (at dinner) he again demonstrated his passion as he thoroughly enjoyed his massive cigar and multiple glasses of wine. He was not only an excellent composer, conductor, theorist, and administrator (having been the Director of the Eastman School of Music for 40 years) but was a wonderful storyteller and humanitarian. One of the faculty members, Ed Colby (a great punster), when coming to our house (located on Anson Avenue in Cupertino) quipped, "Anson? as in Oward Anson?"
What a distinct honor and privilege for me to have hosted one of the most outstanding musicians of the 20th century, Howard Hanson, in the west coast premiere of his new oratorio.

Howard Hanson
---
Aimo Kiviniemi
Having just graduated from high school and entered the University of Kentucky as a freshman music student, I was assigned Aimo Kiviniemi as my very first voice teacher. Kivi (as he was known by all his students) was a large-voiced Helden Tenor who was the premier voice teacher at UK. I was very fortunate to be assigned to him and be the recipient of his profound knowlege of literature and vocal technique. He was extremely patient and carefully guided me as I attempted to master the art of singing. Phyllis and I were delighted that he was soloist for our wedding and his wife was organist. Thank you Aimo Kiviniemi!

Aimo Kiviniemi sang at our wedding, 1958
---
Marvin Rabin
Marvin Rabin was a tall, low-pitched commanding voiced conductor and violist. He was the conductor of the University of Kentucky's orchestral and string program and founded the Central Kentucky Youth Symphony Orchestra. I was fortunate to be his assistant with the Youth Orchestra. He was also the teacher of music theory and I studied with him for two years. After leaving Kentucky, Dr. Rabin then became the Director of the Greater Boston Youth Symphony Orchestra and eventually was on the faculty of the University of Wisconsin Music Department and Director of the Wisconsin Youth Symphony Orchestra. He was one of the movers and shakers of the Youth Orchestra movement in the United States. He was a great musician and was admired by all who knew him. His obituary in 2013 stated, "He just had such a passion and love for music — seeing the community that it brings together, the depth of emotion it can touch."

Marvin Rabin
Hans Joachim Heinz
Union Theological Seminary, School of Sacred Music (prior to the construction of the new Lincoln Center in mid-town Manhattan) was directly across the street from Juilliard School of Music. Union had some of the finest organ instructors in the world but there was no on-site vocal faculty. Therefore, those of us who were singers received all our instruction from Juilliard faculty. I was fortunate to have been assigned Hans Joachim Heinz, a Viennese opera tenor. Weekly hour-long lessons took place in his studio on an upper floor of Juilliard. Mr. Heinz, who was born in Vienna, was a leading tenor in Europe during the 1930's. In 1937, Otto Klemperer brought him to the United States to perform in the first performance of Mahler's Das Lied von der Erde. He joined Juilliard in 1956, remaining there until he retired in 1979.
One weekend Phyllis and I made a quick trip to the Washington D.C. area to visit her Aunt. I had a rather nice camera which was filled with photos I had taken of Igor Stravinsky during rehearsals in Carnegie Hall as well as several photos of Hans Joachim Heinz. I had put the camera in the seat pouch on the bus while en route to D.C. When we got off the bus, I suddenly discovered that I had failed to retrieve the camera. I immediately informed the bus company and stated that we would follow the bus and when it stopped I would get the camera. We were told that would not be necessary because they would simply alert the driver and return the camera to us. We never saw the camera again. THAT is the reason I do not have, nor could I find, a photo of Mr. Heinz.
One further story. Mr. Heinz did not like to be judged by public performances of his students. Since my major interest was conducting, not singing, he was delighted to be teaching me. However, when it came time for my required graduate recital, he was not at all happy that the general "public" would hear me - his student. During the dress rehearsal with the finest accompanist in the world, John Wustman, Mr. Heinz paced back and forth in the back of the concert hall. Occasionally, he would look directly at me, raise his hands to his head as if terrified, and shake his head. At one such vocal problem, he walked from the back of the hall to the stage with his right hand extended shaking his finger in my direction and said, "Mr. Ramsey, Mr. Ramsey, the "F" is... is... " then he shook his head and, in his heavy German accent, simply stated, "Too late, too late!" and returned to the back of the hall.
---
Margaret Hillis
As one of the most famous choral conductors of her time, Margaret Hillis lectured from time-to-time at Union. I was happy to have conducting instruction from Hillis. She, too, had studied conducting privately with Julius Herford and with Robert Shaw at the Juilliard School. She later became assistant conductor of Shaw's Collegiate Chorale.
In 1950, Hillis founded the Tanglewood Alumni Chorus, which later performed as the New York Concert Choir and Orchestra. She also worked as a choral conductor for the New York City Opera and the American Opera Society. During her years in New York, she taught choral conducting at the Juilliard School and Union Theological Seminary.

Margaret Hillis
---
Henry Charles Smith
Henry Charles Smith was one of the worlds finest trombone and euphonium artists. In addition, he was also an outstanding conductor. He won the Grammy with the Philadelphia Brass Quintet for the "Best Classical Record of the Year" in 1969. While on the conducting staff of the Minnesota Orchestra, he conducted over 1,000 concerts. As solo trombonist with the Philadelphia Orchestra, he played more than 2,000 concerts with Eugene Ormandy and many other of the 20th Century's greatest conductors. As trombone and euphonium soloist, as chamber music player, and as writer and editor, his recordings and editions are internationally known.
His guest conducting includes the Detroit, Dallas, and Kansas City Symphonies, the St. Paul Chamber Orchestra, and the National, San Antonio and Indianapolis Symphonies.
Maestro Smith has served on the faculties of the Curtis Institute of Music, Indiana University, Temple University, St. Olaf, Luther and Bethel Colleges, and the University of Texas. He is Professor Emeritus at Arizona State University.
Henry Charles Smith is frequently a guest conductor, speaker, clinician and soloist across the United States. He has conducted the Young Artist Orchestra at Tanglewood and was Music Director of the World Youth Symphony Orchestra at Interlochen Arts Camp for 16 years. The Maestro spent twelve seasons as Music Director and Conductor of the South Dakota Symphony. In recognition of Maestro Smith's unparalled contributions to South Dakota's appreciation of quality classical and pops music, the 2000-2001 Season of the South Dakota Symphony was officially proclaimed by Governor William J. Janklow as "The Season of Maestro Henry Charles Smith III."

Henry Charles Smith
---
Elaine Brown
While attending the Robert Shaw summer workshop in San Diego between my sophomore and junior year at the University of Kentucky, Mr. Shaw suggested that I consider pursuing an SMM degree from Union Theological Seminary School of Sacred Music and receive instruction from Elaine Brown, the resident professor of conducting. Upon graduation I was admitted to Union but, to my great disappointment, Elaine Brown had already departed Union for Singing City in Philadelphia.

Elaine Brown with Julius Herford
During my second year at Union, Joseph Flummerfelt and I drove to Philadelphia once a week to take private lessons with Ms. Brown.

Elaine Brown