Antiques Road Show
Feedback Booth
Since it first aired on PBS in 1996, Phyllis and I have faithfully watched virtually every episode of Antiques Road Show. Both our mothers (and grandmothers) had been interested in antiques - especially antique furniture from the South (particularly Kentucky.) The Antiques Road Show provided us with a type of family game to see whose guess was nearest to the appraiser's conclusion. Often we were very close, but sometimes we were off by thousands of dollars - or even more!
After our 1971 experience of performing at the White House on the occasion of the signing of the 26th Amendment to the U.S. Constitution, I had kept the memorabilia from that event. The President of National Public Radio was a dear friend, and he surprised us by having the President of the United States sign a photograph of my conducting (standing on a chair and wearing my cowboy boots!) as well as a photo of my being presented with the pen which President Nixon used to certify the Amendment. Although I suppose I knew that these artifacts were of some value and I kept them in a safe place, I never really did anything to adequately preserve them. The photos had become a bit worn from frequent moves and had suffered from not being properly framed. The case which was the home of the pen had become tarnished.
I decided that all these pieces should be framed in anticipation that I might one day be able to attend an Antiques Road Show to determine the worth (literally or historically) of them. We took the three historical pieces to a framing shop and agreed upon the materials which would be used. The end result was exactly what we had envisioned and proudly hangs on the wall in our music room.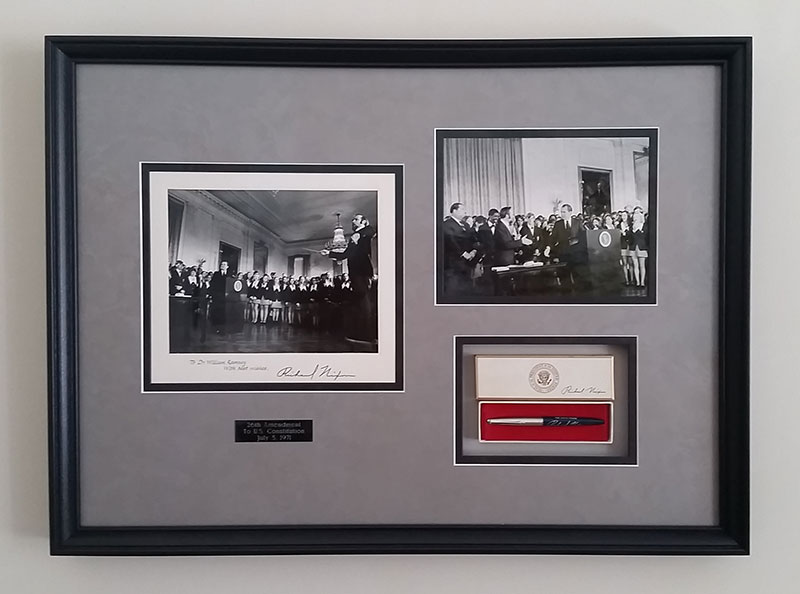 To read more about the event and to view enlargements of the above artifacts, click here.
In 2016 I began looking at the upcoming Road Show events and found several locations which I might possibly attend. The nearest was in Indianapolis on July 9, 2016. I applied for tickets (they are free on a first-come-first-served basis) and was thrilled when my application was accepted. Two tickets were provided and each person is instructed to bring at least one item to be evaluated by the Road Show team. Our son, David, agreed to drive me to Indianapolis for the event and to accompany me as we stood in several long lines. In addition to the framed 26th Amendment artifacts, we also took some Native American jewelry and a silver bowl which I had purchased for $5 at a Church Rummage sale in New York City in the early 1960s.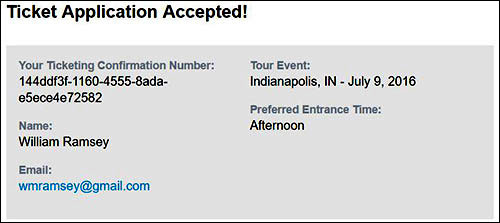 Our tickets to the Antiques Road Show
When we "checked in" we were asked to show those items which were to be evaluated. The staff did not seem particularly impressed with any of the things we had brought except the 26th Amendment framed items. When they saw them they were very excited and told us that we would "for sure" be selected to appear on a future broadcast. There were probably at least 5 different stations where we were stopped to show what we had and at each station, we received the same enthusiastic reaction. Our anticipation was high as we waited patiently in line to hear the appraiser's response to the Amendment memorabilia. In addition to the framed items, I also had my iPad with a video of the event (which can be seen by clicking here) to further verify the "provenance" of my presentation.
After an extended wait in line, we ultimately arrived at the table and presented our beautifully framed items to the evaluator. He looked at them and quickly said, "that is well framed, but I am afraid that Nixon is not terribly collectible. I would judge the pen to be worth about $20 and the signature to be about $50." I was, naturally, disappointed and attempted to tell him that this was the pen that actually signed into law the 18-20-year-old vote. He dismissed that by stating that presidents use many pens to sign documents. I told him I had a video and that only one pen was used, but he was not interested.
As attendees generally say in the Feedback Booth, we had a great time at the Antiques Road Show. We were, however, both surprised and disappointed that such a historic pen had so little value to the appraiser.
PS: I was never a huge fan of Nixon (especially after the Watergate scandal became public) and decided that at the next election I would use that pen to cast my vote against Nixon. It was a small attempt to demonstrate my dislike for political shenanigans.
PPS: The $5 silver bowl was appraised to be worth $750.00!