Fruit Cake
When we lived in Louisville during our first full-time job, our address was 116 Dorchester Road in the Mooregate subdivision, only a block from Kentucky Southern College. Our close friends, Joyce and Ray Stines, lived nearby on the same street. Ray was the Director of Admissions and Registrar of the College where I was a professor of music - and our families spent many hours together.
One of our most profound memories with the Stines was a wonderful "fruit cake" which Joyce made to celebrate the Christmas season. We had grown up with not-so-positive memories of the traditional southern fruit cake which was a very dark color and which was also the brunt of many stories and jokes about the Christmas season. Both my maternal grandmother as well as my mother made a version of the traditional cake every holiday season.
Perhaps the one Christmas delicacy that is the most
maligned and despised is the traditional fruit cake
The following paragraphs and cartoons are only a tiny fraction of the derogatory opinions which have appeared in a variety of publications. They demonstrate the love-hate relationship people have with the fruit cake Christmas tradition.
The Christmas holiday inspires us to reach into our hearts (and pockets) to search for the perfect gift. No matter who shows up on your list, you want to get them something that will wow them, or at the very least make them smile. And for food lovers, the options to wow and amaze are limitless. From cool kitchen gadgets to informational cookbooks, a food enthusiast is happy to receive anything related to food, be it a great bottle of wine or a fruit basket. But one food item that should probably never be on your gift-giving list? Fruitcake.

The worst gift is a fruitcake. There is only one fruitcake in the entire world, and people keep sending it to each other.

My husband bought fruitcake one year. He ate some of it, but I wrapped the rest and gave it back to him for Christmas. The next year, I found it amongst my presents from him. It developed from there. This one's been around 15 to 20 years. The first one lasted about that long, too. Fruitcakes are made to withstand the test of time.

For months they have lain in wait, dim shapes lurking in the forgotten corners of houses and factories all over the country and now they are upon us, sodden with alcohol, their massive bodies bulging with strange green protuberances, attacking us in our homes, at our friends' homes, at our offices — there is no escape, it is the hour of the fruitcake.
But wait, there's more!
Our lasting memories of childhood fruitcakes changed drastically from the heavy dark cake - the brunt of the above jokes and cartoons - when Joyce served us her Cherry-Pecan Fruit Cake. Since that time in the early 1960s, we have made her recipe virtually every Christmas.
I don't think we have missed making this light-colored and delicious cake but ONE Christmas since she shared that wonderful recipe. We were performing in Bethlehem at the birthplace of Jesus in 1985 and didn't have an opportunity to bake it then. Otherwise, it has been a huge part of our lives and we bake at least one every year.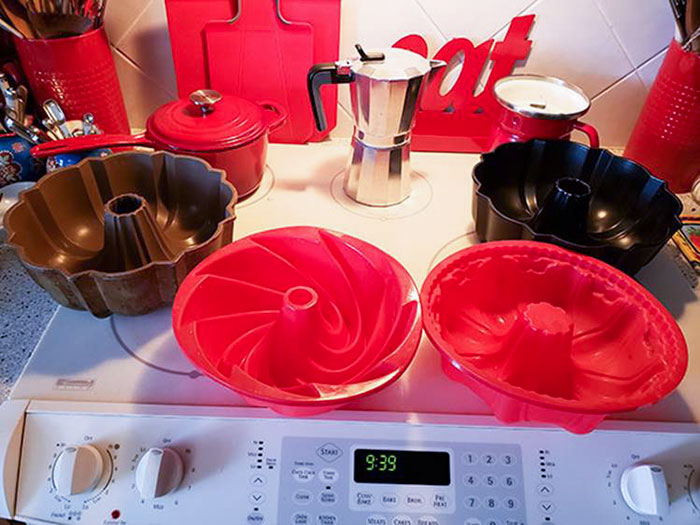 Originally we used metal bundt pans to bring life to Joyce's treasure. Recently we have used a variety of utensils, including silicone baking pans – which are both very elaborate and easy to use – for the hallowed Cherry-Pecan Cake. Formerly, we made smaller cakes for our friends and delivered them on Christmas Eve. Those days have long since passed, however. We make at least one for us and we consume every delicious crumb. Thank you, Joyce.
Cherry Pecan Cake (Joyce Stines)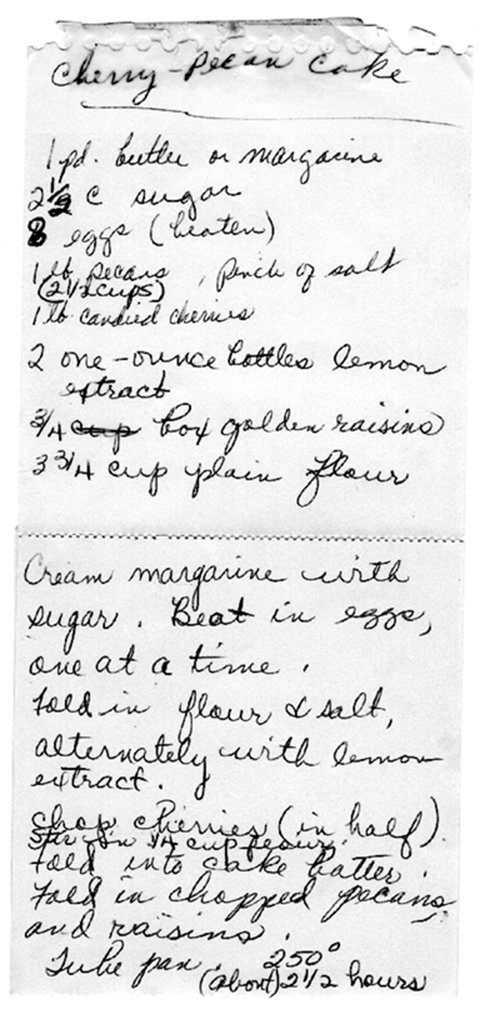 Joyce Stines' hand-written recipe