Acute Story
Generally, all our "memories" are about, or significantly include, us and our family. This is a departure from that because this happened to our dear friends and is much too interesting not to include.
Background
We first joined the music faculty at Utah State University in Logan, Utah, in 1966, and had many incredible students. One person stood out immediately - an oboist, mover and shaker, leader, and conductor - James Michael Bankhead. Upon his graduation, he joined the United States Air Force and spent the majority of his career as a musician in the Air Force. For many years he was the manager of and ultimately became Commander and Conductor of the United States Air Force Band in Washington, D.C. Upon his retirement, he became the manager of the Green Bay Symphony Orchestra. Later he became the Chair of the Music Department at California State University at Chico, Sam Houston State University in Huntsville, Texas and finally the Head of the Music Department at Utah State University in Logan, Utah (his alma mater.) Mike and his wife, Lyn, have been our close friends for decades.

Lyn, Mike, Phyllis, Bill (in back) - photo taken in Michigan
The Event
Since Mike, Lyn, Phyllis and I visit frequently and exchange texts, emails, or phone calls almost daily, I was not surprised to receive a text from Mike on Monday, July 22, 2019. The content of the text, however, was a shock to us.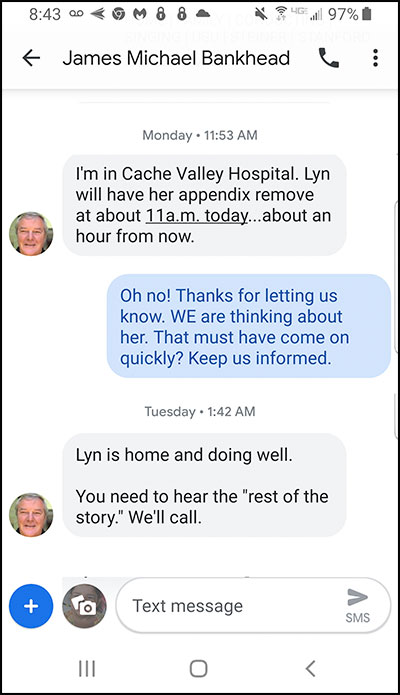 Although Mike wrote the last text at 1:42 AM, we did not read it until we awoke the next morning and we anxiously awaited for the promised phone call which did not come until early Tuesday evening.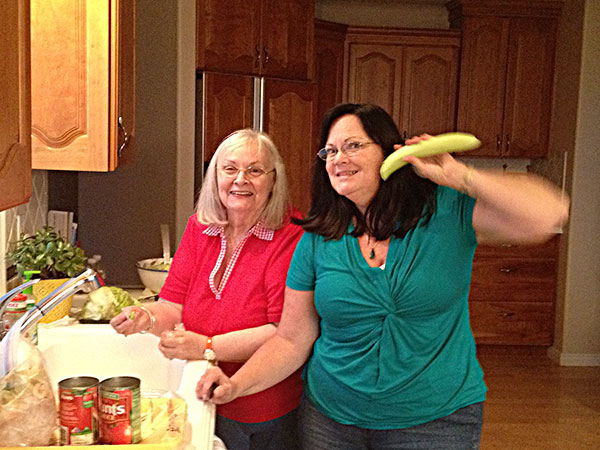 Lyn Bankhead with Phyllis Ramsey - cooking together in Logan, Utah
The Rest of the Story
Mike has frequently served as a conductor for the Utah Festival Opera & Musical Theatre and had been tasked with designing and writing a retrospective concert of music from the 1940s-1950s. Mike accepted the challenge which he called, Sentimental Journey, and sought the vocal assistance from Lyn who is an outstanding teacher, vocalist, conductor, and coach. The program was to be an extravagant performance which included professional singers, dancers, actors, and orchestra, all conducted by Mike. He had endured an exhausting 6-hour rehearsal on Sunday, July 21 and had dropped off to sleep early in the evening so that he would be fully rested and at his best for additional rehearsals on Monday and the gala performance on Tuesday, 2 days later.
Lyn began to be aware that she was experiencing discomfort in her lower abdomen. She left the bedroom and descended the stairs in order to not disturb Mike's rest. Quickly the discomfort became increasingly painful which caused Lyn to think that she was experiencing some urgent event which could no longer be handled alone at home. She (without awakening Mike) got in her car and began the 10-minute drive to the Cache Valley Hospital Emergency Room. While driving alone, the pain became unbearable and caused extreme nausea which prompted Lyn to stop the car and call 911 for assistance. The operator suggested that Lyn should await an ambulance, but Lyn thought she would be able to continue driving with the assistance of the 911 operator who was suggesting breathing exercises and helping to calm Lyn.
When Lyn arrived at the hospital emergency room, there were no other patients in the waiting room so she was immediately admitted and given various tests which determined that she was experiencing appendicitis. As you can see from the above photo, Lyn is very cute, so it is not surprising that she was diagnosed with "a cute" appendicitis! (Sorry about that, Lyn.) Because this was an emergency in the middle of the night, the hospital staff had to await the arrival of a surgeon and Lyn was scheduled for surgery at 11 AM.
When Mike awoke, he assumed that Lyn was outside working in the garden. It was not until Lyn called him that he realized she was not on the premises but was in the hospital awaiting surgery. As can be seen in the screenshot above, Mike wrote at 1:42 AM (Eastern Daylight Time) that Lyn not only had completed the surgery a few hours earlier but had been released and was home for recuperation. The anxiously awaited call and the "rest of the story" came early Tuesday evening. The call was made from their moving car. We were surprised to learn that BOTH Mike and Lyn were driving to a dinner engagement and then were heading to the theatre where Mike would conduct Sentimental Journey and Lyn would be an audience member for the musical performance both had worked so diligently to bring to life.
I was under the impression that appendectomy surgery generally required a more extended hospital stay, particularly when the appendix is so inflamed, but today most patients are released after 2 days. According to New York's Mount Sinai Hospital, The good news is that you'll be able to go back to all those normal activities within 2 to 4 weeks. Not Lyn Bankhead!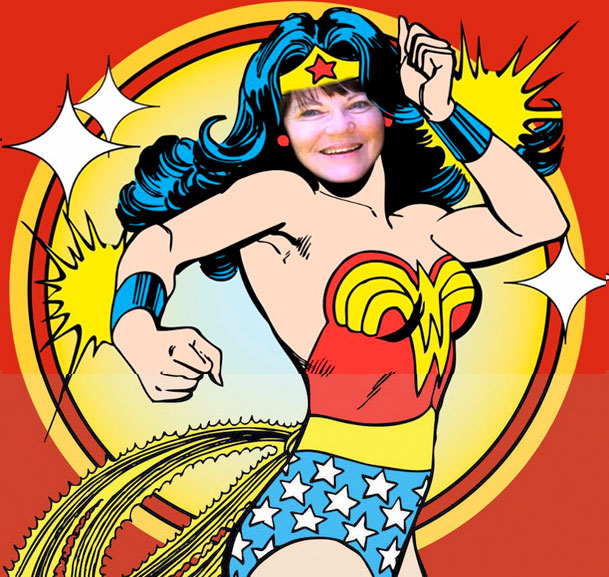 Wonder Woman Lyn!