First Singing Solo
Apparently, my early interest in and love of music is closely related to the musical activities of my father's side of the family. My paternal grandparents had a music room in their home, my grandmother played the piano, and my grandfather "led the singing" in their church. Although my grandfather was a businessman who owned a poultry house, was part owner in the Denny, Murrell, Ramsey Funeral Home, and owned the Gulf Refining Company Distributorship (providing Gulf "filling stations" with gasoline, tires, batteries, and oil products), he spent a good deal of his time making music. He and my grandmother formed a vocal mixed quartet with Wilda and Bill Curtis which was widely known in our community. They sang for many of the funerals in Pulaski County Kentucky. If someone said, "I heard the Curtis-Ramsey Quartet sing" the other person would respond with, "Who died?" In addition, my father would often "lead the singing" at church, and his brother, Jim, would frequently be a soloist.
I started "music lessons" (piano) when I was about 3 years old. I also began playing clarinet when I was in the 3rd grade. There was no Elementary or Junior High band (Middle School hadn't even been invented in those days), so I was placed in the High School Band in the 3rd grade. Imagine those high schoolers who were so very annoyed to have a little kid in their band! When we went on trips, they would stuff me in the overhead luggage rack so that I wouldn't pester them.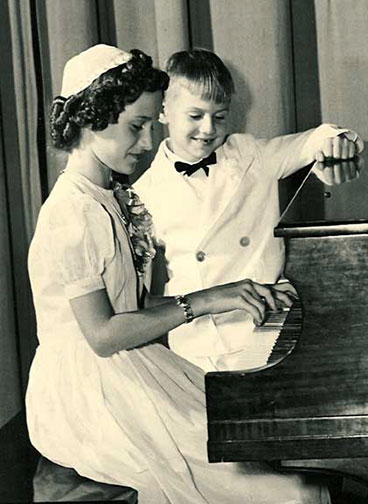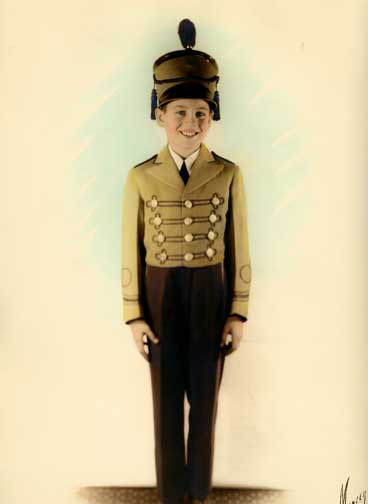 Bill, a clarinet player? That reed tastes good!
While my main early musical interests were instrumental (piano, clarinet, saxophones, oboe), I was also good in the grade school rhythm band. I played sticks "really, really good!" 

Central Grade School Rhythm Band
I'm the kid in the front row with buttons!
I, of course, sang all the time – who didn't in those days? With no training and only a tiny bit of prompting, I sang my first solo in church. I remember it as if it were yesterday.

First Baptist Church Somerset, KY
I selected one of my then-favorite pieces – Albert Hay Malotte's The Lord's Prayer and proceeded to practice. Most male singers have an ever-present fear of the voice cracking – especially on high notes – and The Lord's Prayer is really high toward the end of the piece. Well, I did great until I got to the end and, as I feared, my voice cracked – not once, not twice, but several times. It was one of the most humiliating experiences of my life.
After the service, Opel Neikirk, a dear family friend, came up to me and said: "Oh, Little Bill, Honey, you should be in movies." I was thrilled and said, "Thank you so much!" And then she added, "Tarzan movies!"

Johnny Weissmuller as Tarzan
Press the arrow above to hear Tarzan's Jungle Call (length: 7 seconds)
It's a wonder that I ever sang again. To this day, I still have a fear of my voice cracking! Amazingly, Opel later asked me to sing at the wedding of her eldest daughter, Glenda. (I recently found this photo and enlarged my face to prove - to myself - that I really performed at this event. (I was standing in almost that exact spot when my voice cracked during my debut.) I have no recollection of singing at this wedding, but thankfully, my voice did not crack in public ever again. That's my story and I'm sticking to it!)

Wedding of Glenda Neikirk. Ramsey is non-cracking soloist!!!