Is This Supposed to Taste Good?
While our kids were in high-school, an exchange student from Denmark, Hanna Jørgensen, was a close friend of our daughter, Cheri, and would often visit us for dinner. One evening we had a delightful time with Hanna, Cheri, Pat Reardon (a close friend of our boys), Chris, and David. I wanted to make something special for dessert and found Jacques Pépin's superb recipe for an apple tart. While I had never made an apple tart before, I had every confidence that I could be successful.
I carefully selected the apples, peeled them, and used a mandoline to slice them to a uniform thickness. They were beautiful. As Pépin instructed, I used a small amount of lemon juice to prevent the apples from discoloring. The tart shell was lovingly prepared and baked with appropriate pie weights and we were ready to go!
I removed the pie weights and carefully positioned the apples in a magnificent, dramatic, overlapping swirl on the pastry shell. Next, I applied a gorgeous apricot glaze, made with fresh apricots from our tree, and placed the masterpiece in a preheated 400° oven.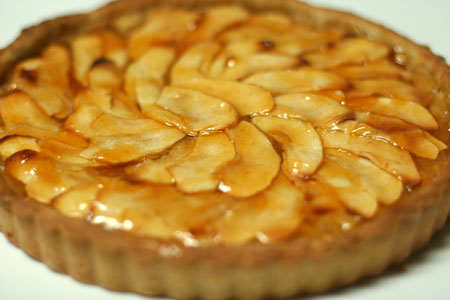 The tart was beautiful and glistened as it was removed from the oven. There were "oohs" and "ahs" as it first appeared and all were anxious to eat. Because I was busy serving, I had not yet had an opportunity to sample my successful baking attempt.
After one bite, Hanna Jørgensen said, "Is this supposed to be good?" Pat Reardon said, "I think it tastes a bit salty."

Have you ever noticed how closely sugar and salt resemble each other in appearance? My dear, sweet, loving wife had 2 identical jars sitting side-by-side on the counter. One contained sugar and the other salt. I failed to read the label and selected the wrong jar. While salt and sugar look similar, the tast is quite different! Who could have known? YUCK!
We rapidly disposed of the glorious tart and substituted vanilla ice cream. I never ever attempted making one of those tarts again. It was beautiful - just not edible! The ice cream that followed was OK (after the salt flavor subsided.)