First Singing Solo
I started "music lessons" (piano) when I was about 4 or 5 years old. I also began playing clarinet when I was in the 3rd grade. There was no Elementary or Jr. High band (Middle School hadn't even been invented in those days), so I was placed in the High School Band in the 3rd grade. Imagine those high schoolers who were so very annoyed to have a little kid in their band! When we went on trips, they would stuff me in the overhead luggage rack so that I wouldn't pester them.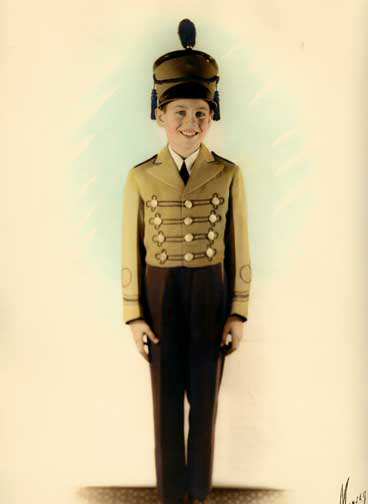 Bill, clarinet player? That reed tastes good!
While my main musical interests were instrumental (piano, clarinet, saxophones, oboe), I was also good in the grade school rhythm band. I played sticks "really, really good!" 

Central Grade School Rhythm Band
I'm the kid in the front row with buttons!
I, of course, sang all the time – who didn't in those days? With no training and only a tiny bit of prompting, I sang my first solo in church. I remember it as if it were yesterday.

First Baptist Church Somerset, KY
I selected one of my then favorite pieces – Albert Hay Malotte's The Lord's Prayer and proceeded to practice. Most male singers have an ever-present fear of the voice cracking – especially on high notes – and The Lord's Prayer is really high toward the end of the piece. Well, I did great until I got to the end and, as I feared, my voice cracked – not once, not twice, but several times. It was one of the most humiliating experiences of my life. After the service, Opel Neikirk, a dear family friend, came up to me and said "Little Bill, you should be in movies. Tarzan movies!" It's a wonder that I ever sang again. To this day, I still have a fear of my voice cracking!